HERE ARE some pictures of airline food.
Pardon such a vapid diversion, but there's little else to talk about these days that isn't crushingly depressing. If nothing else, these photos take us back in time — to the days when an airplane ride didn't feel like a medical evacuation. Back before flight attendants began dressing like astronauts and planes became flying hospitals. Already it seems so long ago. Plus, I'm hungry.
Before the coronavirus madness began, we'd reached a point where, at least on some airlines, the food in international premium class could rival that of a fancy restaurant. All carriers took pride in their onboard product: not merely the food itself, the presentation and choreography of the service — the whole indulgent kabuki of premium class, from the menus to each carrier's signature cutlery. It could be pretentious, but always it was fun.
Here, in no special order, are some examples. New and old, fancy and not so fancy. There are many that I'm missing. I'll be adding to the list as my photo archives cough up forgotten snapshots. And, hopefully, through future travels. These weren't employee freebies. I've spent a lot of money on these seats. Maybe let me show off a little.
A business class meal aboard a Philippine Airlines A330, Singapore to Manila. Adequate if underwhelming. This was a three-hour, intra-Asia service; presumably the airline's long-haul routes have a more lavish spread. Appetizer salad in the top photo was followed by the chicken and noodle thing below. Not visible here my the second and third helpings of garlic bread. Yum.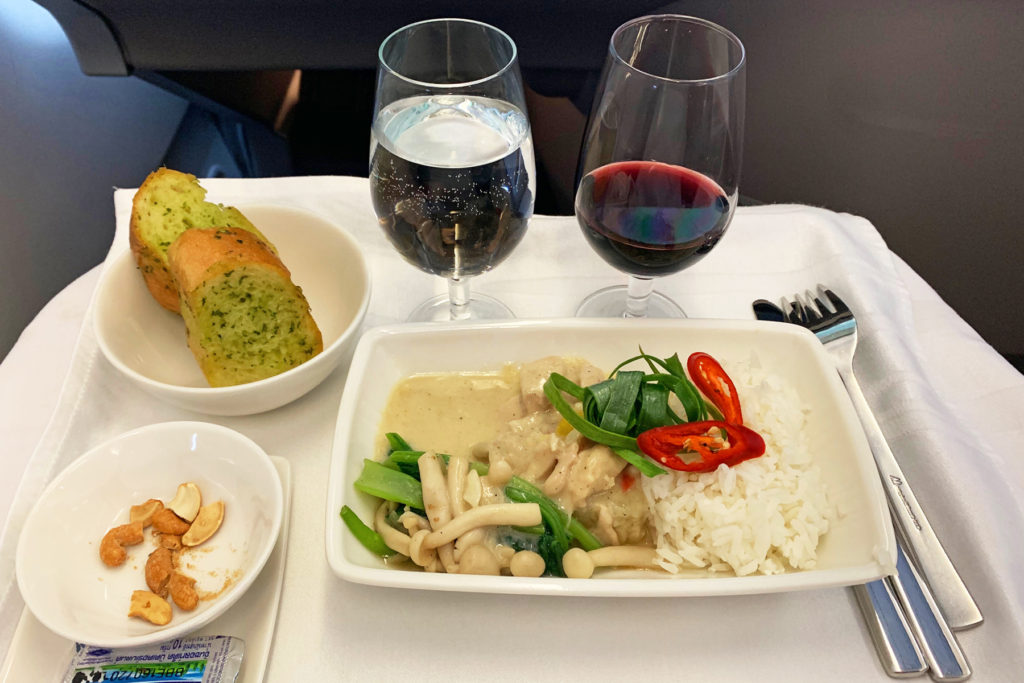 China Airlines
The upper photo shows a business class dinner aboard a China Airlines Airbus A350, en route from Taipei to Amsterdam. The cabin decor on this aircraft was strikingly handsome, gold highlights and elegant wood tones. The food, however, was less impressive, and they were super stingy with the wine. The second two pics showcase the carrier's shorter-haul service on the A330.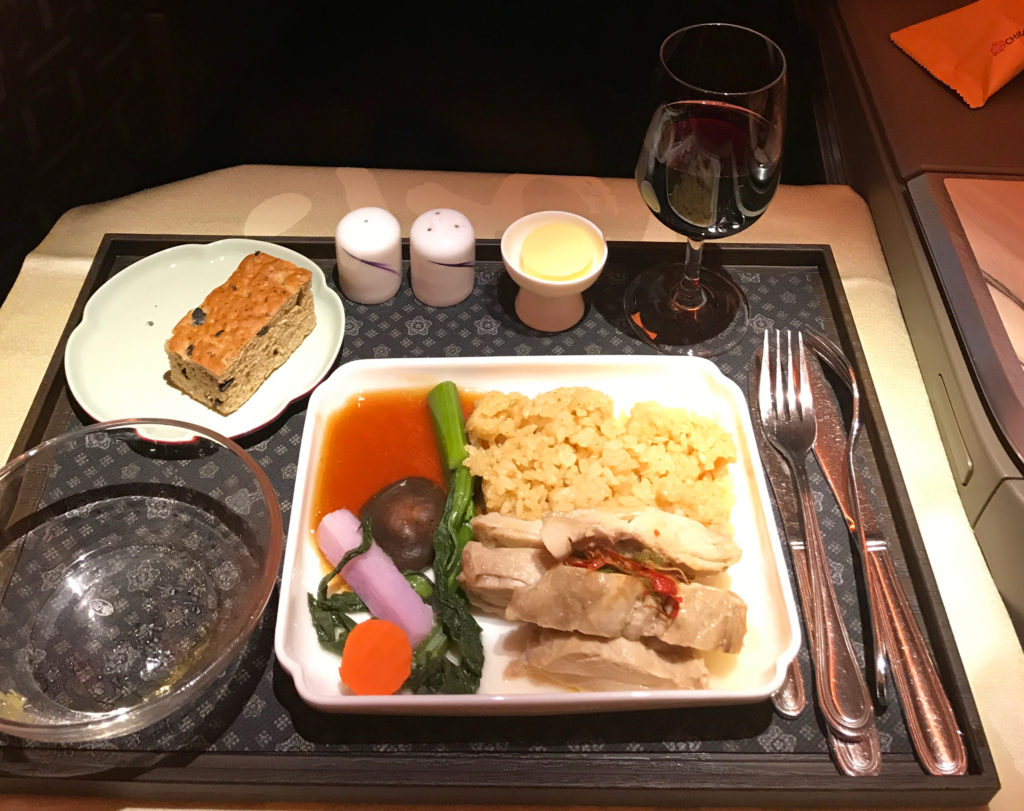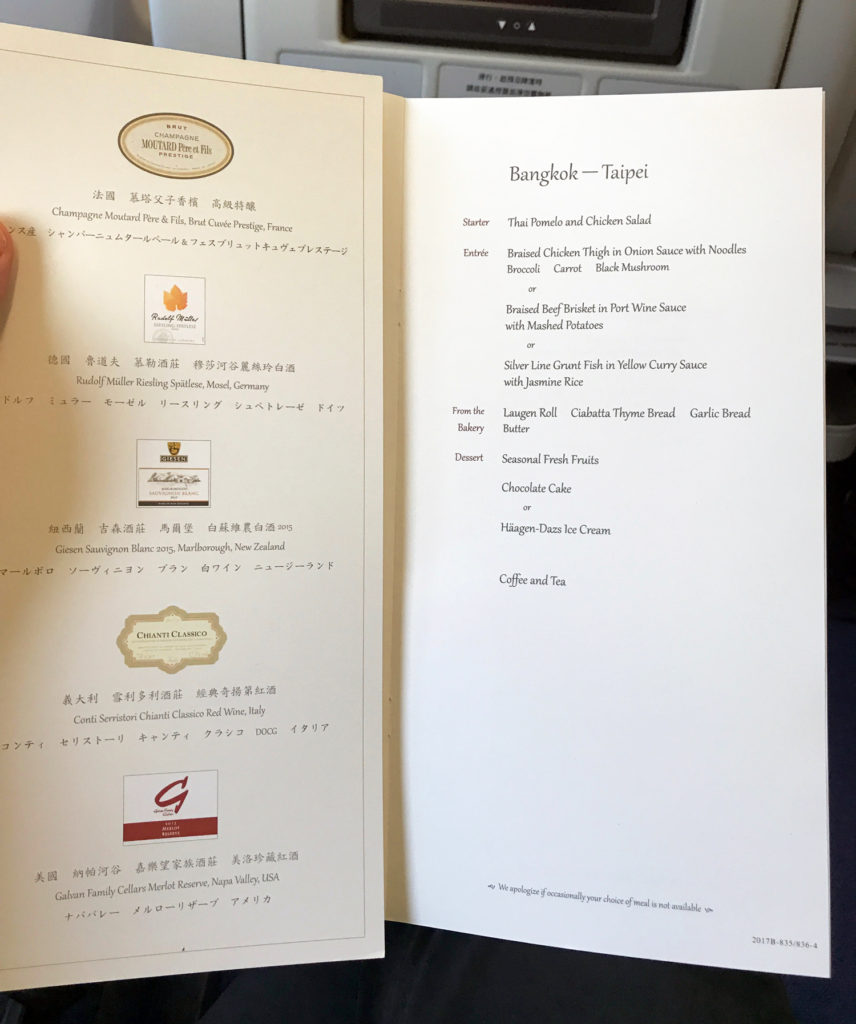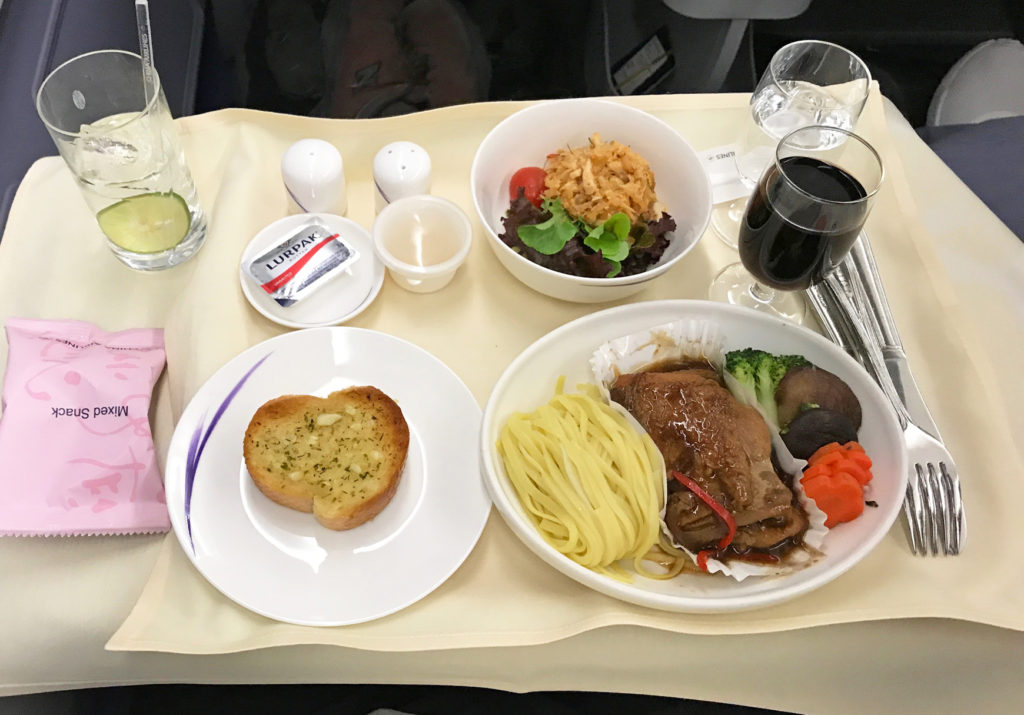 South African Airways
Economy class dinner on the now-defunct South African Airways. Not a bad offering on the quick hop from Lusaka, Zambia, to Johannesburg. The second pic beholds one of the sadder things I've seen on a plane. Believe it or not, this was the business class vegetarian entree, served on the Johannesburg-Victoria Falls route. Click here for a detailed review of this flight.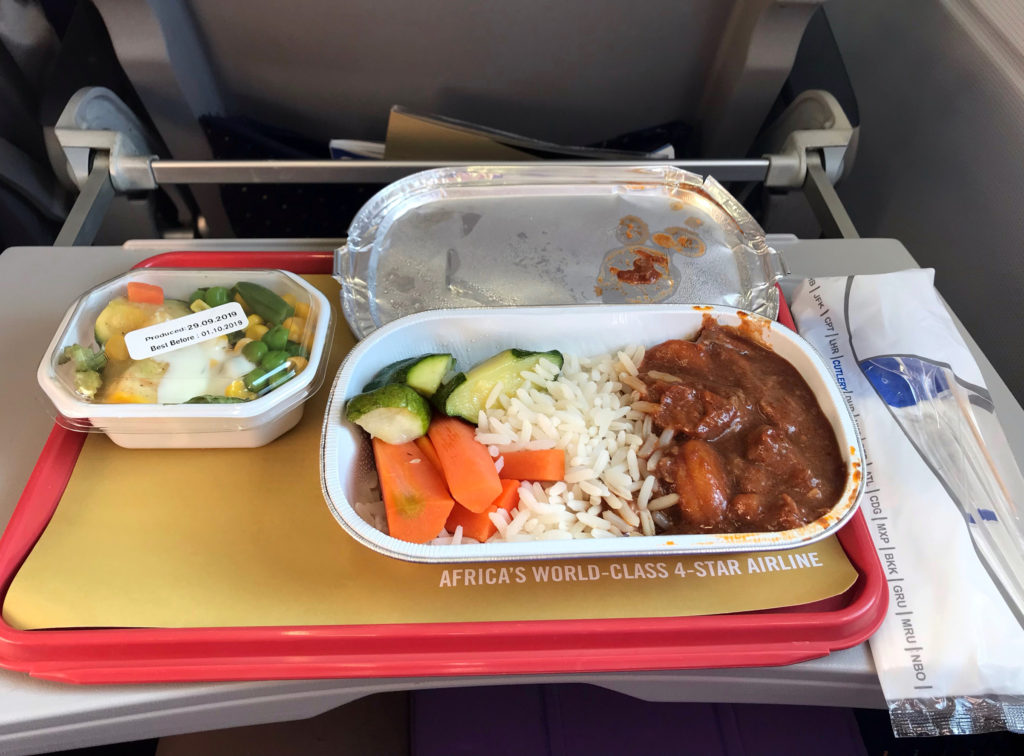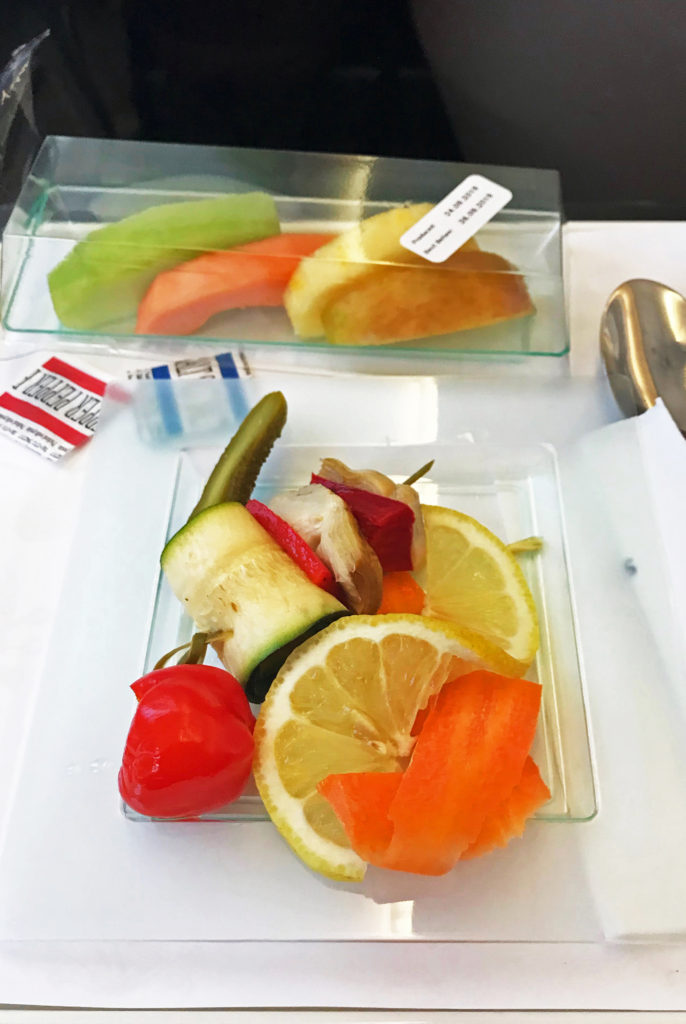 Sky Airline
Sky Airline (there is no "s") is a Chilean carrier, and this was the economy meal on a 737 between Santiago and Punta Arenas. Let's just say that I loved the paper tray liner, and leave it there. The green plastic silverware was a curious and, some would say, unappetizing touch.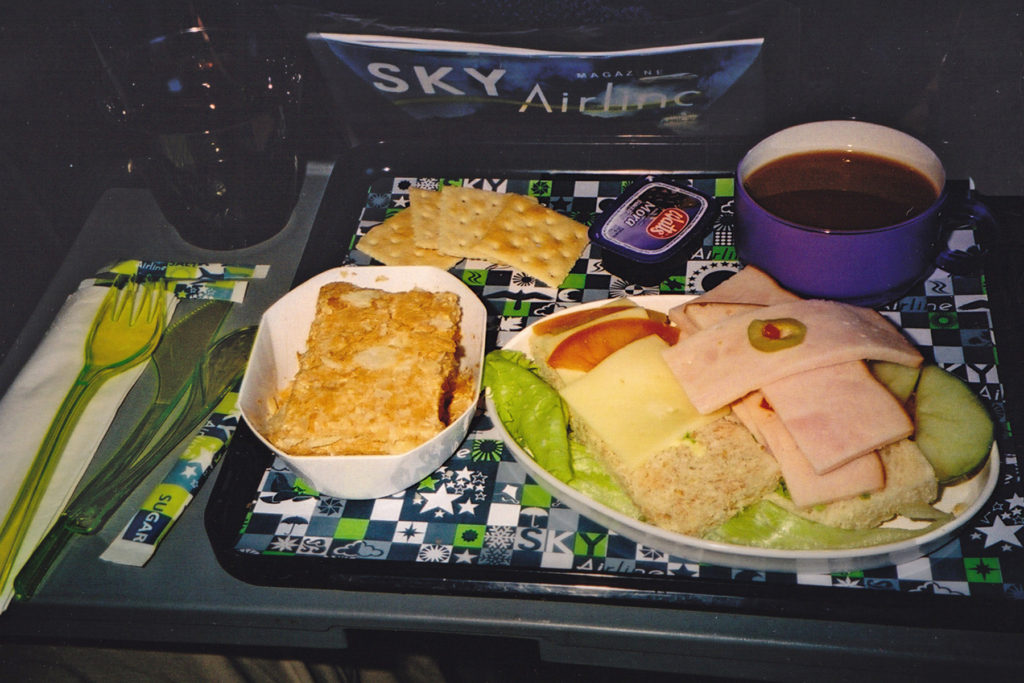 Sri Lankan Airlines
A beautiful little menu to whet your appetite on way from Bangkok to Colombo. The meal itself was standard economy fare, which is to say equal parts adequate and unspectacular. The seat-pocket magazine is called Seredib. This is a sanskrit term from which the word "seredepity" comes from.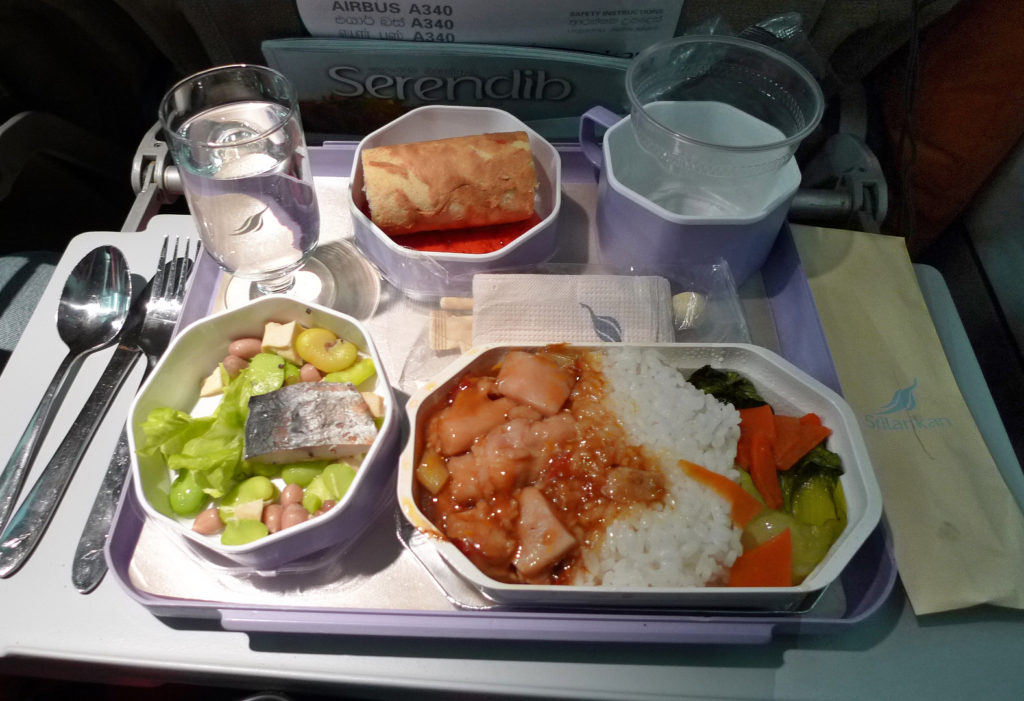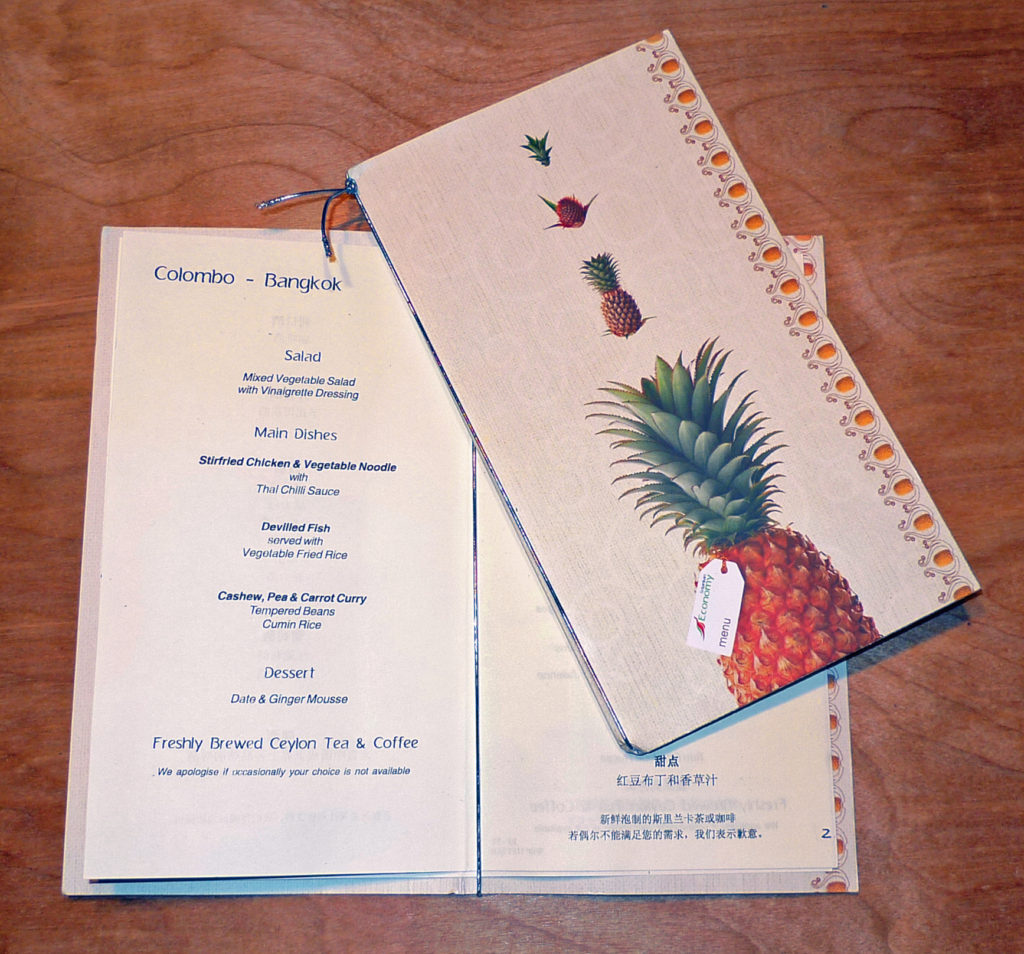 Qatar Airways
Qatar's premium class food is arguably the best in the world. And what you see here is the short-haul version, served on a two-hour flight from Doha to Yerevan, Armenia. Keep scrolling for a peek at long-haul.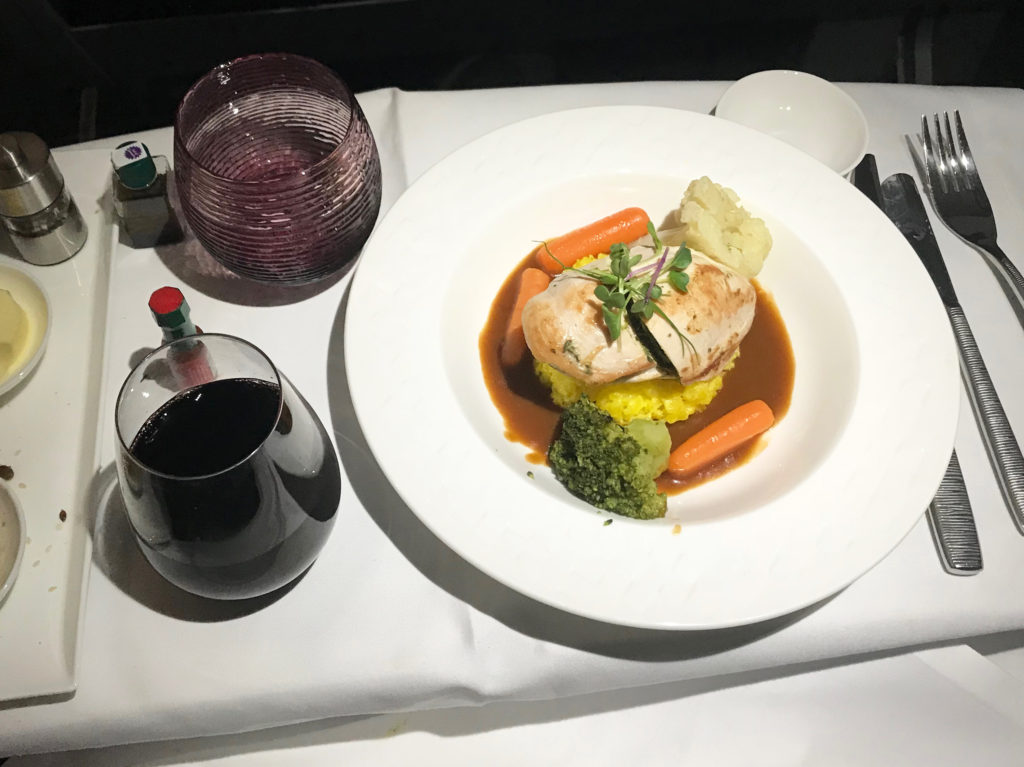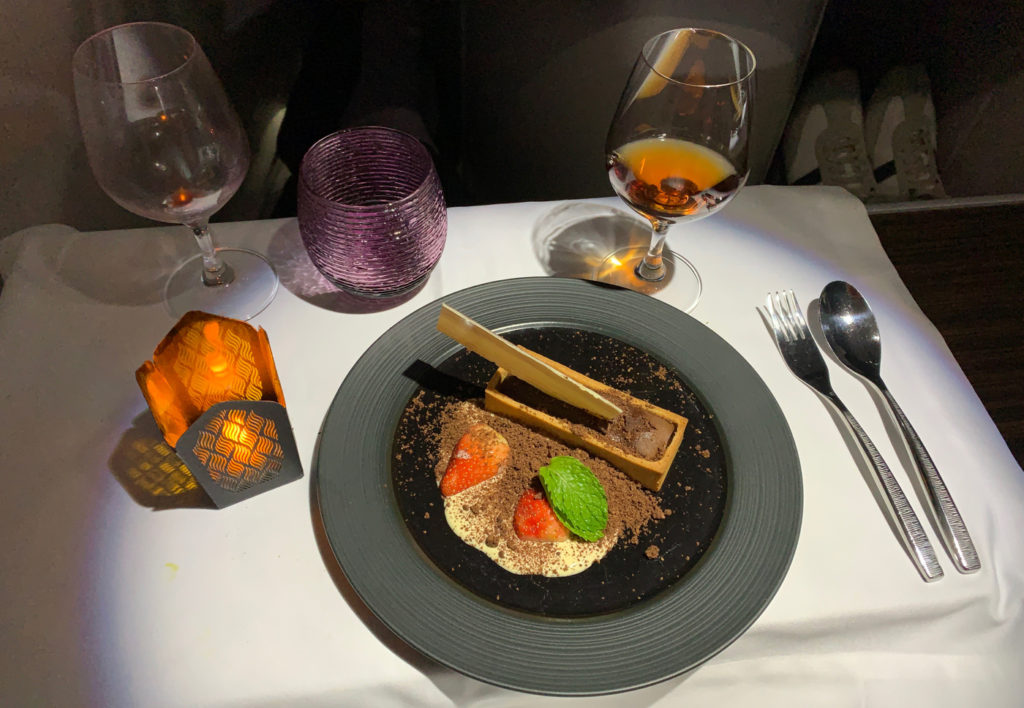 China Airlines
Back to China Airlines, this time in economy class between Tokyo-Narita and Taipei. As the kids say, it is what it is. This is the kind of food only someone like me would take a picture of.
Drukair
One of Bhutan's two airlines, Drukair flies smaller planes and offers a limited, if tasty business class menu. Here you see the lunch options on the daily run from Paro to Bangkok. It was breakfast on the outbound leg, featuring the fruit course shown below. My Drukair experience is further reviewed here.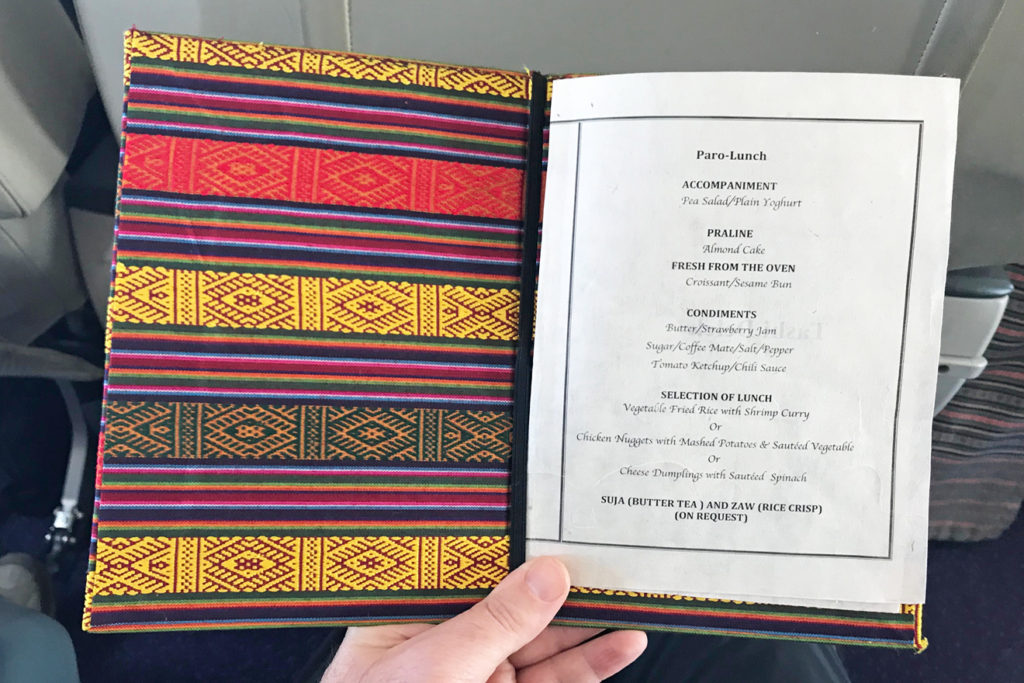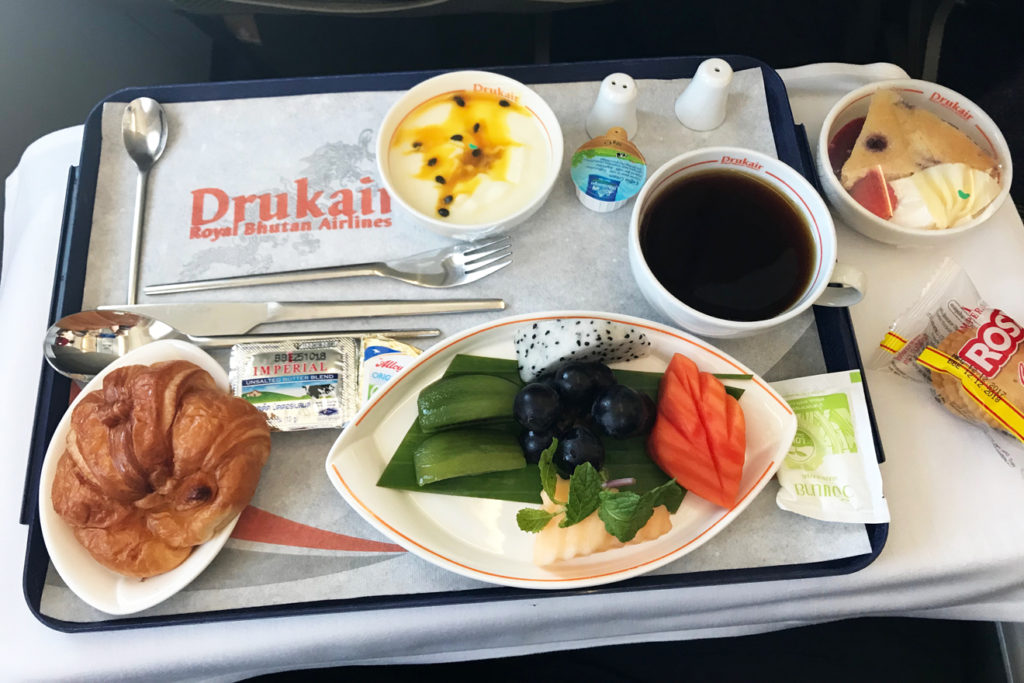 Japan Airlines
This was my first ride on the Boeing 787, from Boston to Tokyo-Narita not long after the route was introduced. The best thing you can say about economy class food is to call it "uneventful." This was no exception, though the ghastly lighting makes it appear less palatable than it was.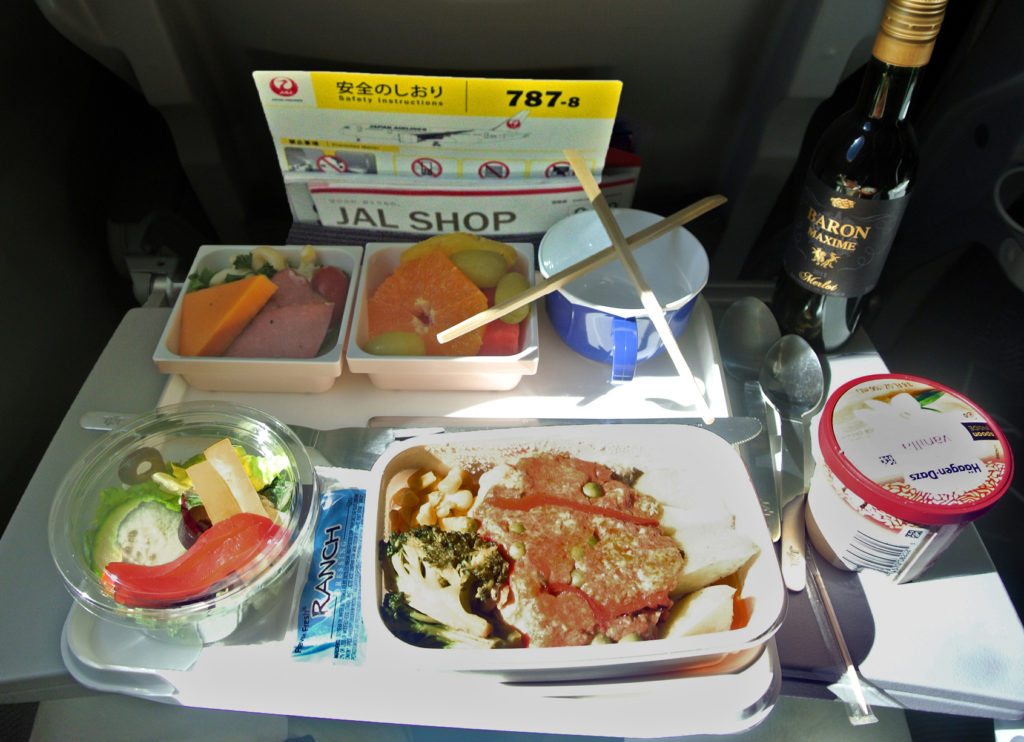 Qatar Airways
Here are the promised long-haul pics. Qatar's deluxe "Qsuite" menu is on-demand, meaning you order whatever you want, whenever you want it. There's no scripted service, per se, with trays and carts coming down the aisle. The top photo shows the menu between New York and Doha. I neglected to get a photo of the entrees. Instead you can see the appetizer or "lite bite" options — a delicious soup, a mezze platter, and a couple of mini-burgers — plus a wonderful dessert.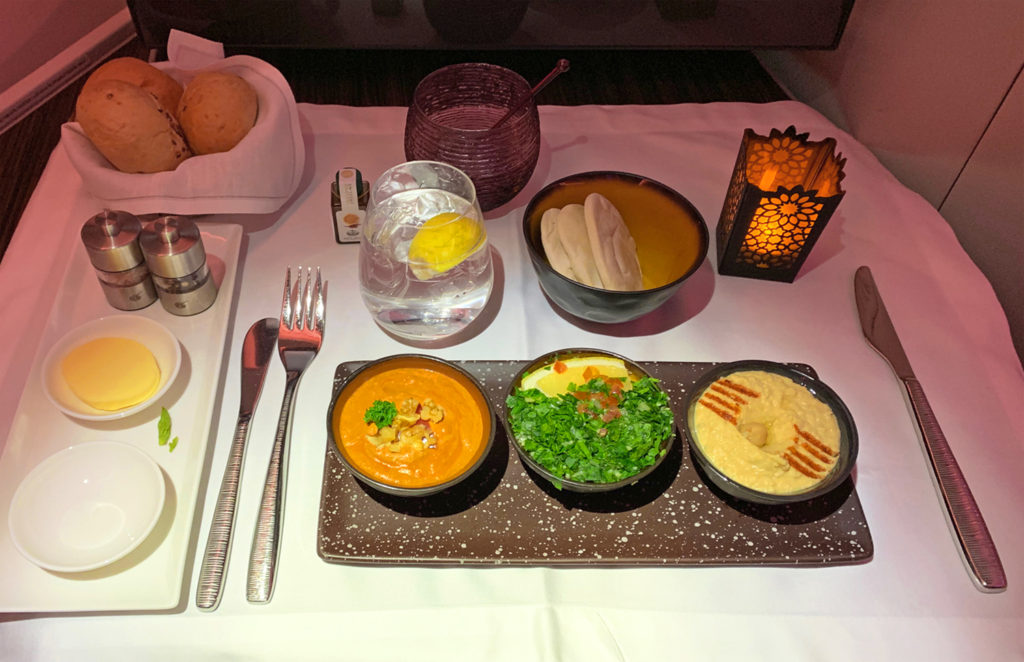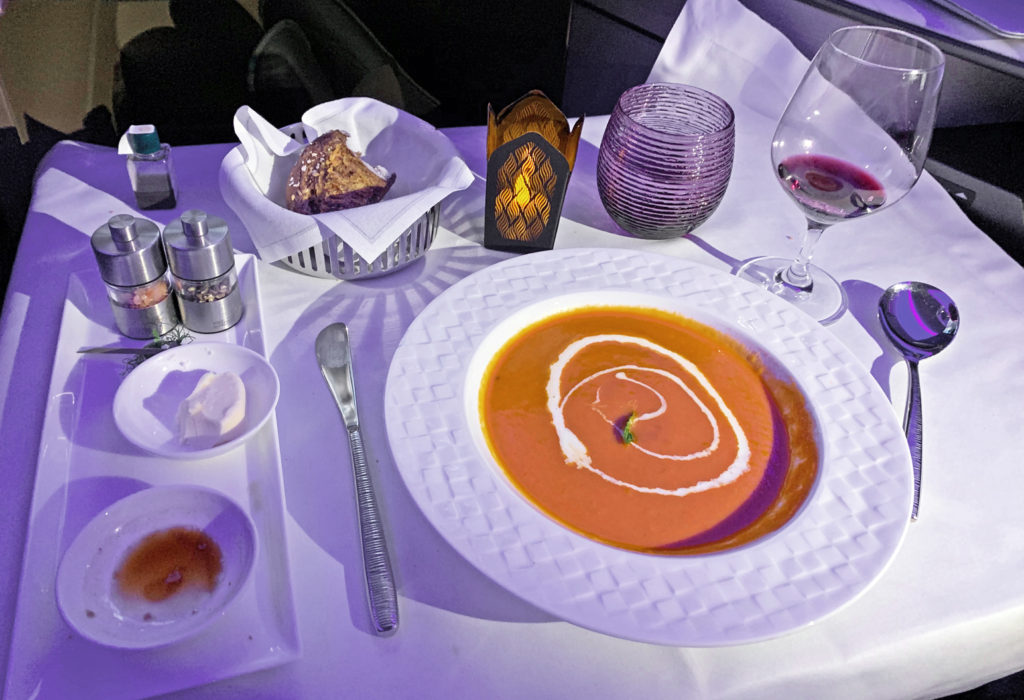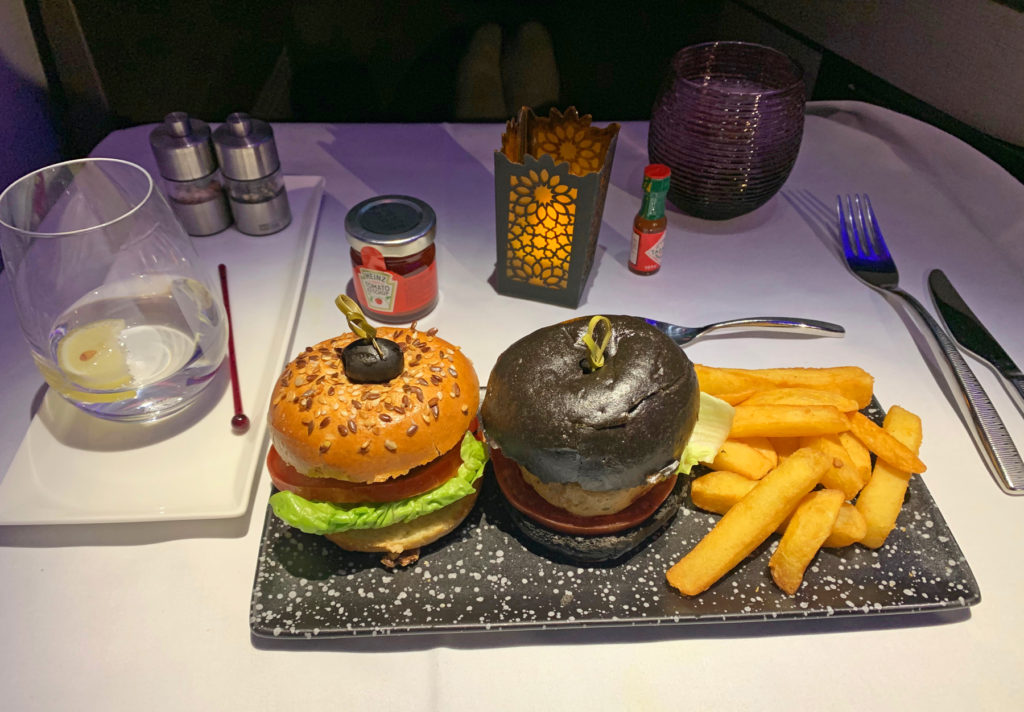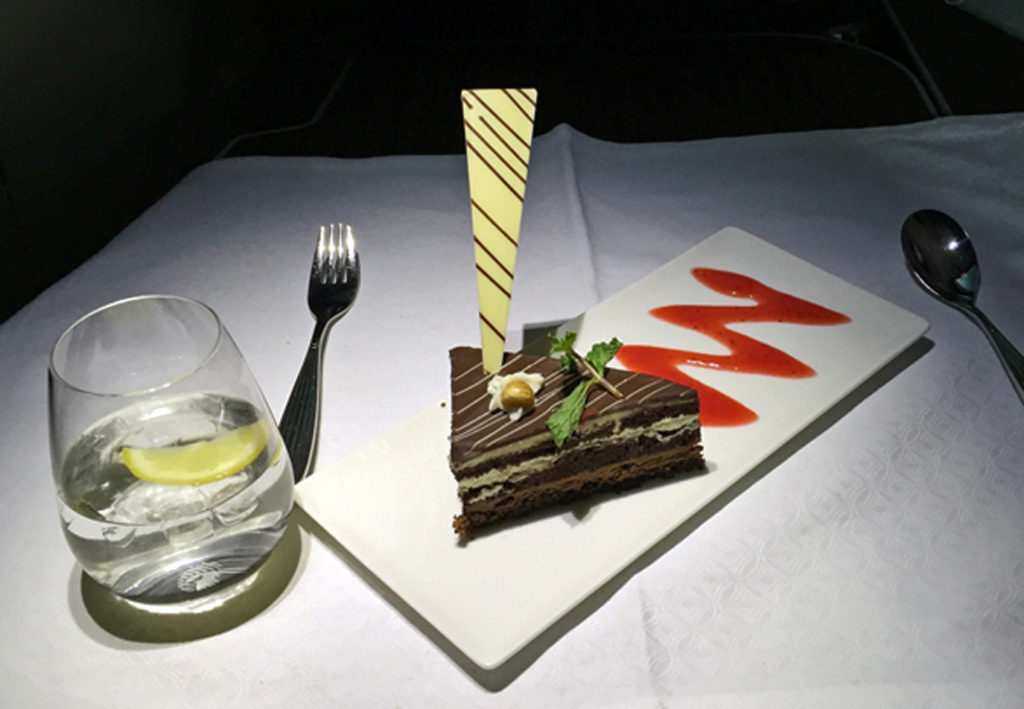 Korean Air
This was first class from Incheon to Bangkok in one of Korean's inter-Asia 747s with an older configuration that is no longer used. Notice the pull-out style entertainment screen and non-sleeper seat. Talk about slumming it! And if that noodle concoction looks a little too sloppy and greasy, that's because.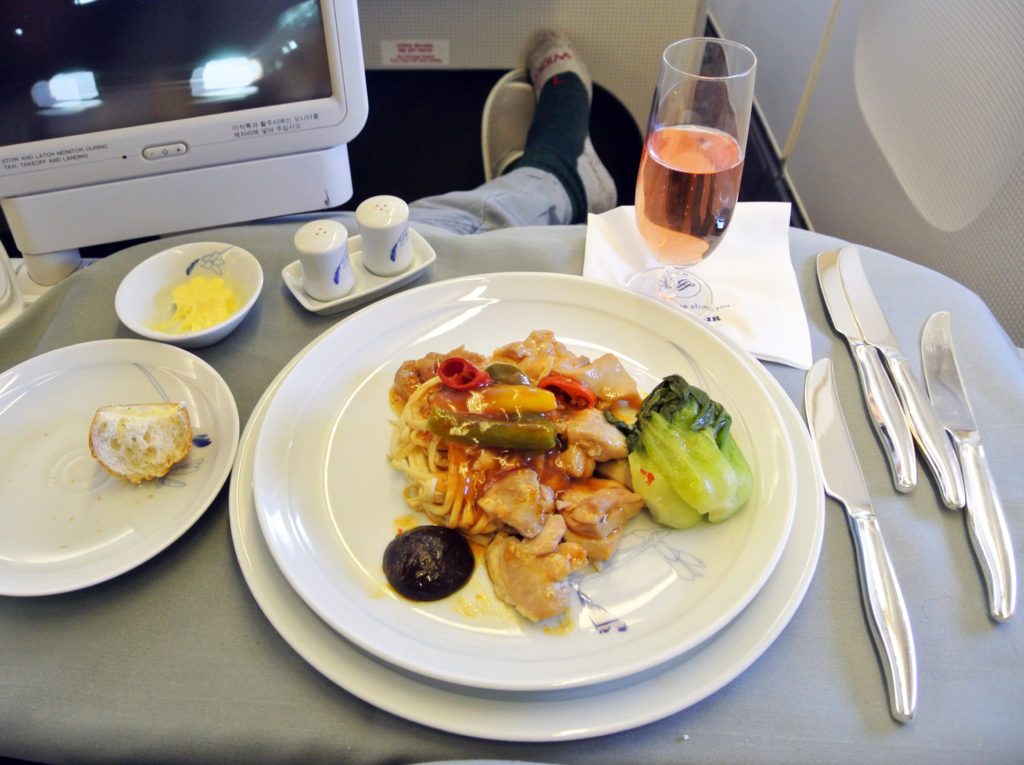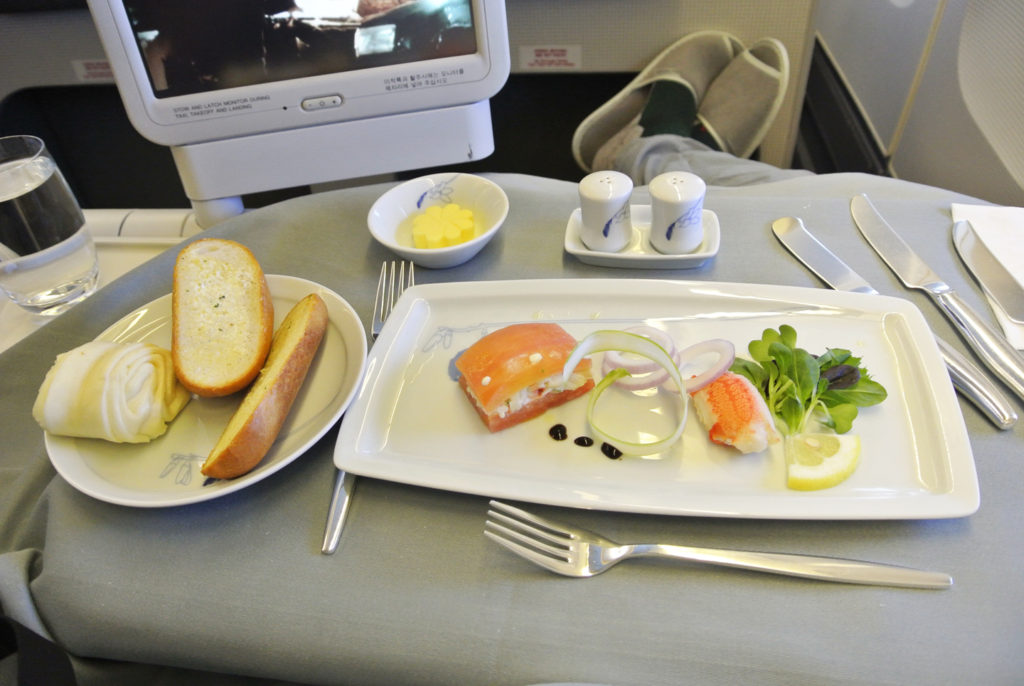 Singapore Airlines
For whatever reason, I failed to keep any photos of the business class delectables I enjoyed one night on the long ride from Singapore to Amsterdam. Instead I have this less interesting picture from a shorter flight. Like most of the airlines we've looked at, Singapore tailors its offerings depending on flight duration and market. This is what you get on an A330 between Singapore and Japan.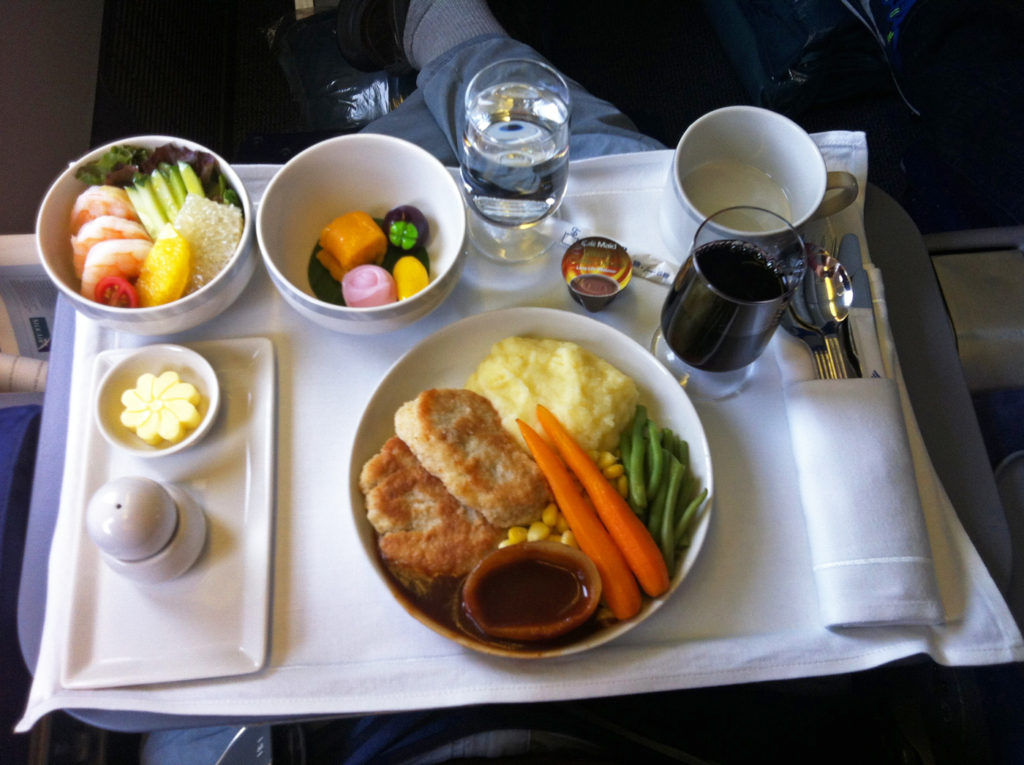 Kenya Airways
Bangkok to Hong Kong with Kenya Airways. A decent lunch and a can of Tusker — what's not to like? And although you can't see it here, this airline provides the world's most luxurious fleece blankets. The crew even let me abscond with one. Today it resides on my couch. What they didn't have, at least on this vintage 767 (since retired), is an entertainment system. I spent several perplexed minutes trying to locate my screen before realizing there wasn't one.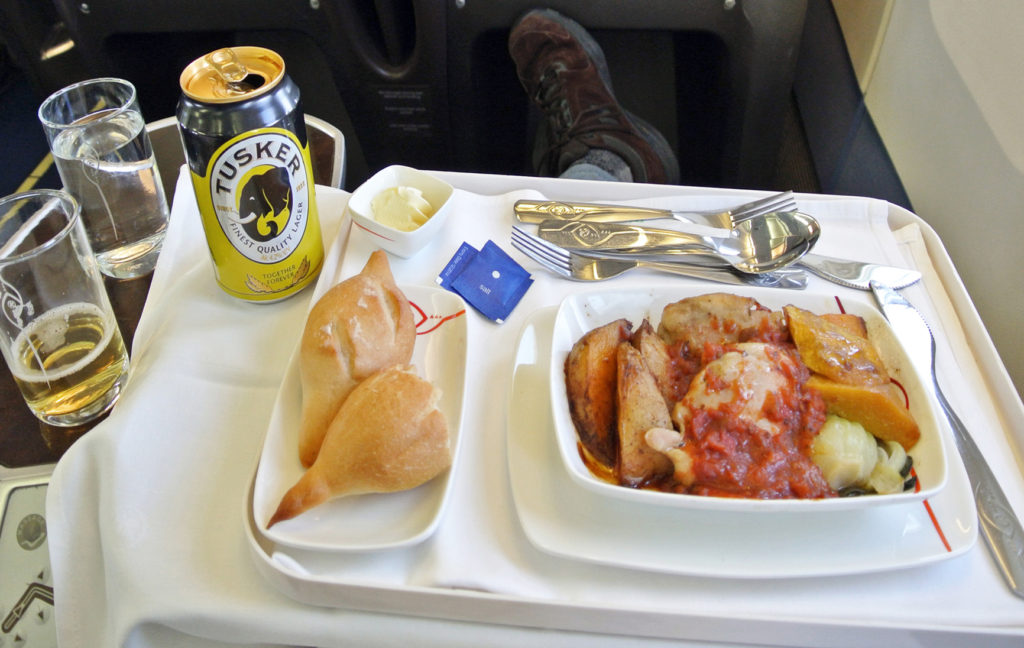 Thai Airways
On the red-eye from Bangkok to Incheon. Another satisfying yet unmemorable economy meal. Or, on closer inspection… that looks rather good.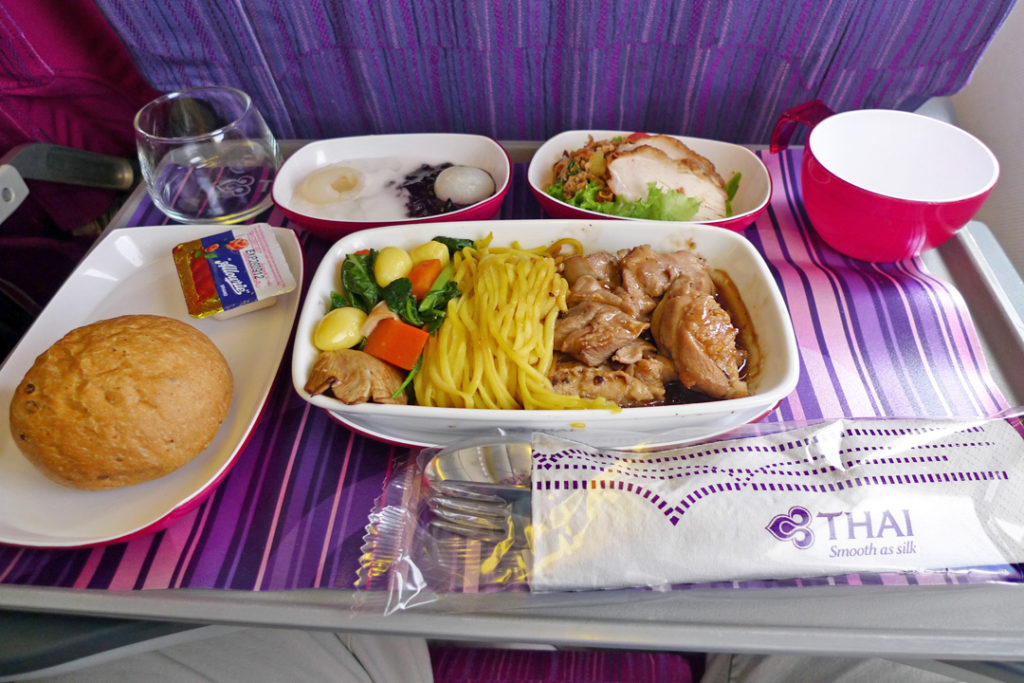 Air Malta
Like the aforementioned Drukair, Air Malta operates only smaller planes on shorter routes (pictured is Heathrow to Valetta). And like Drukair, they do what they can with limited time and space. This involves some improvising, such as folding down the center seat to create a kind of instant business class. The result, all things considered, is surprisingly pleasant. Read more about it here.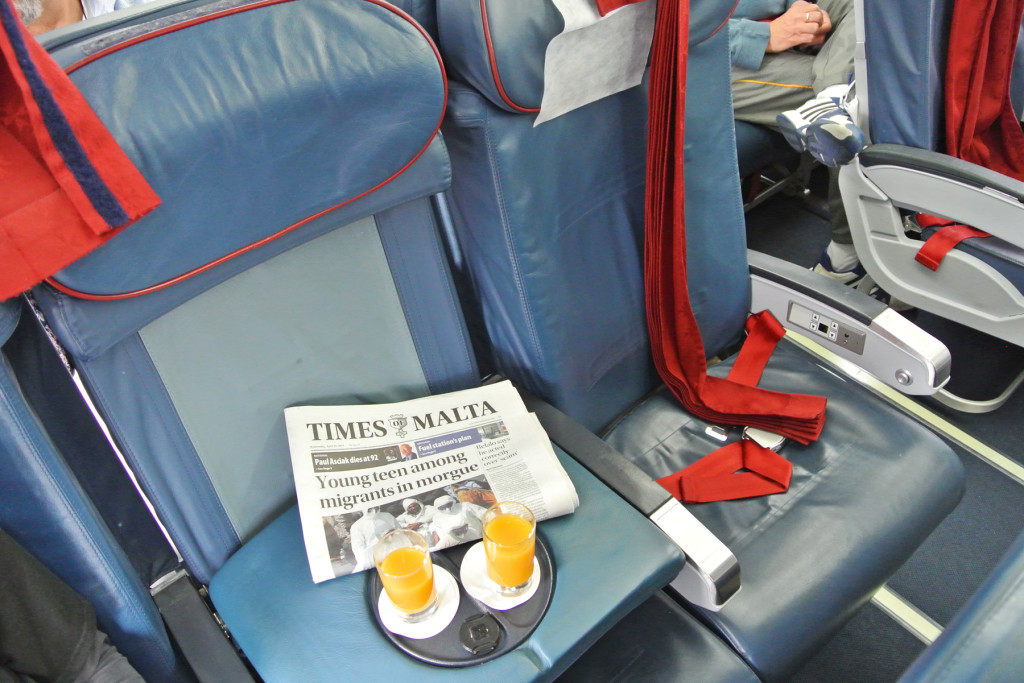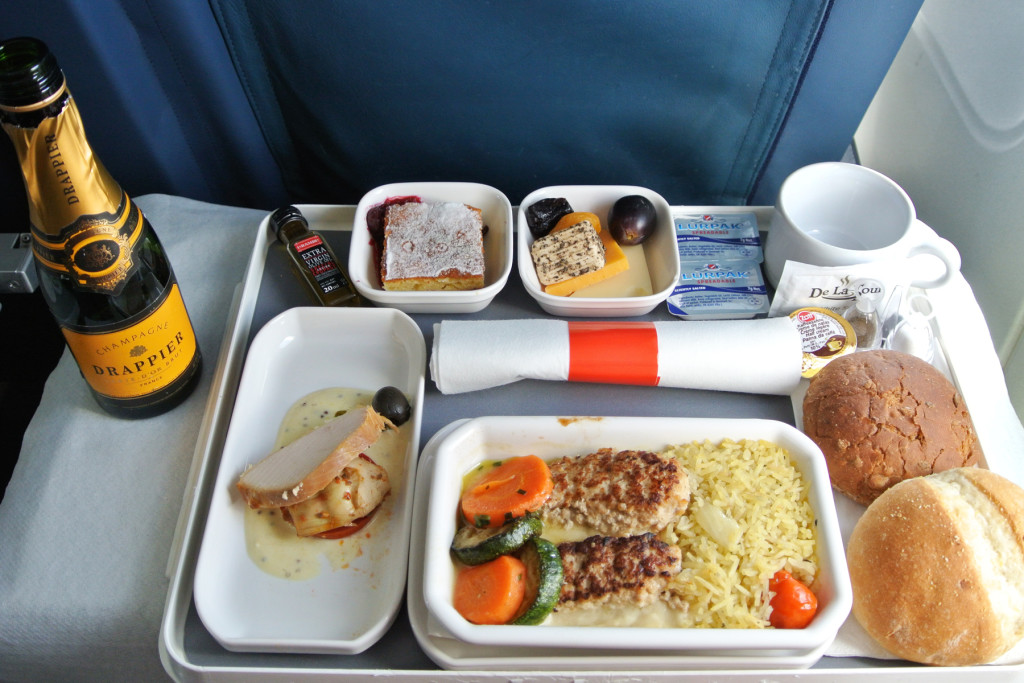 Emirates
Emirates first class is… well. You're looking at flights from San Francisco to Dubai, Dubai to Mauritius, and Johannesburg to Dubai, on both the 777 and A380. Similar to Qatar Airways, this is dine-on-demand, and you're free to mix and match entrees, appetizers, and desserts to your heart's content. Flying out of Johannesburg, I was intrigued by the ostrich filet (see the menu photo), but the pesto ravioli was tempting too. My cabin attendant prepared me both. The rest of the photos show the mezze appetizer spread (yes that's an appetizer), a shockingly delicious chicken biryani, and a salmon dish. The last two shots appear to be a before-and-after. Somehow I ended up with carafes of red and white wine. Again, this is first class. Emirates business class is a lot less lavish and, frankly, disappointing.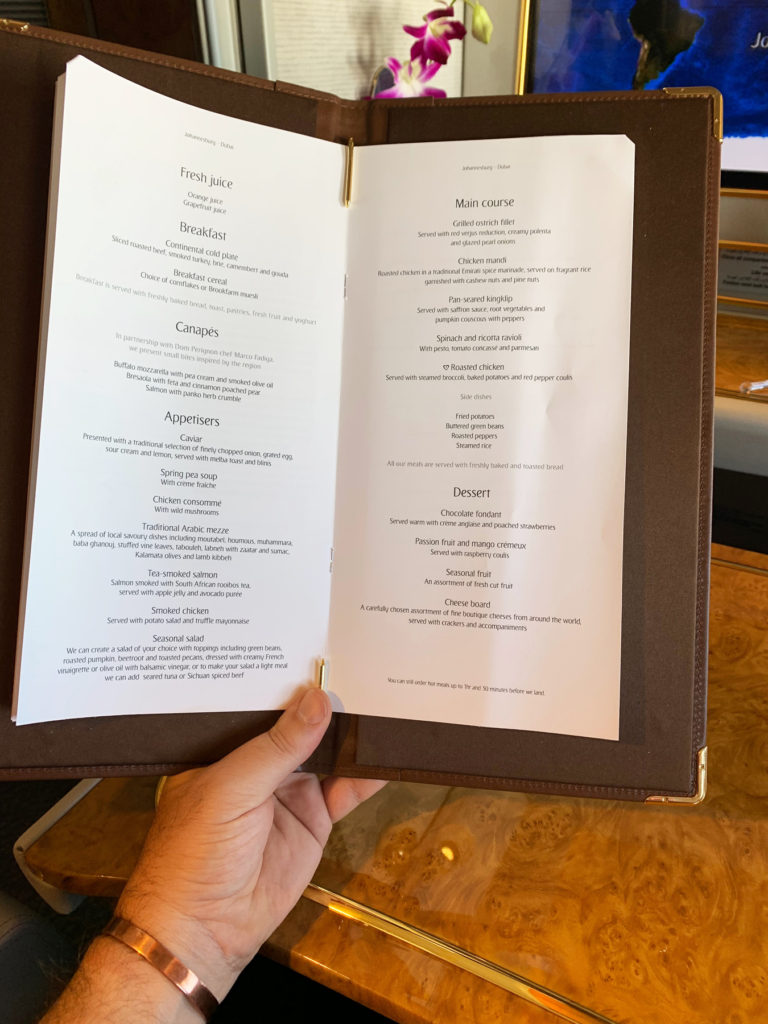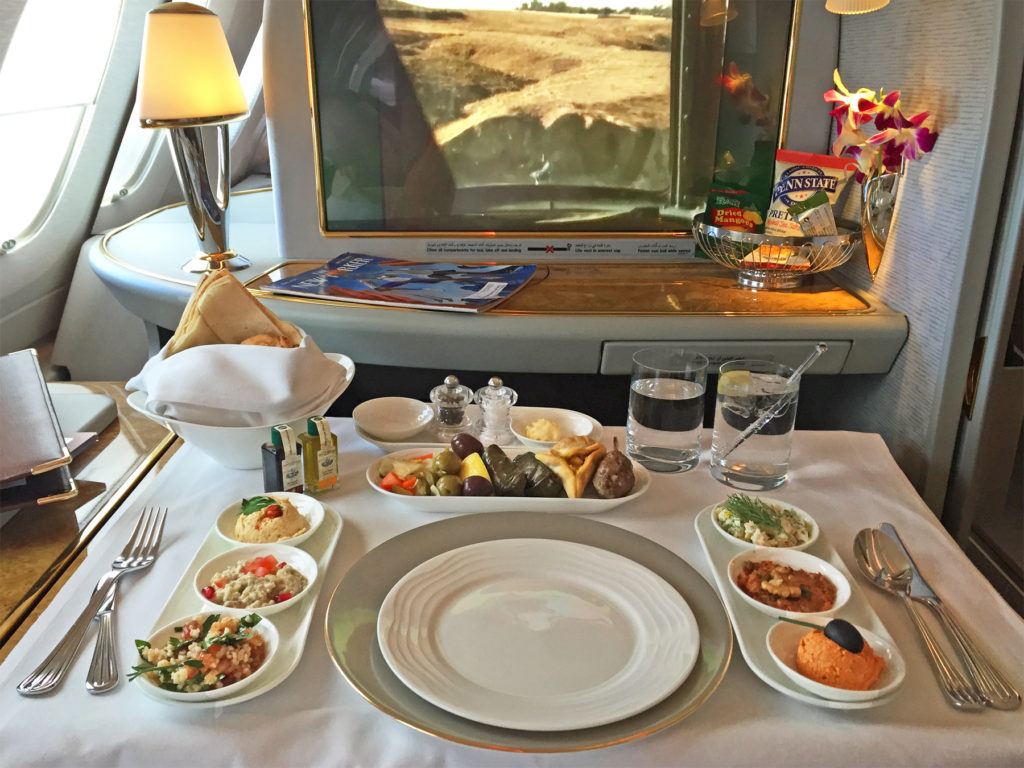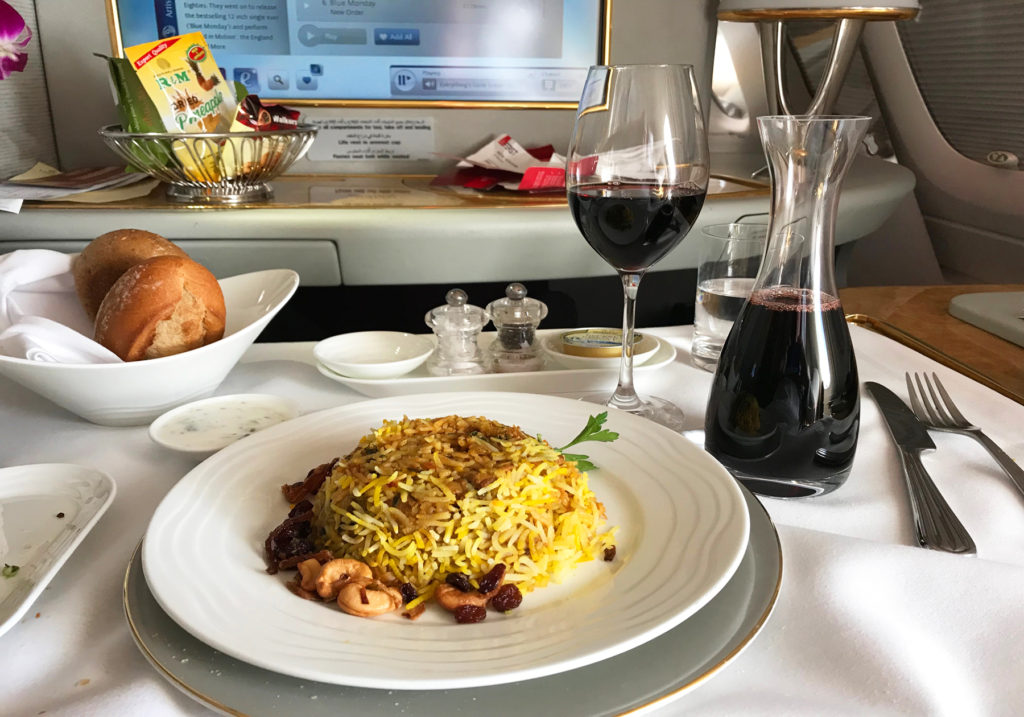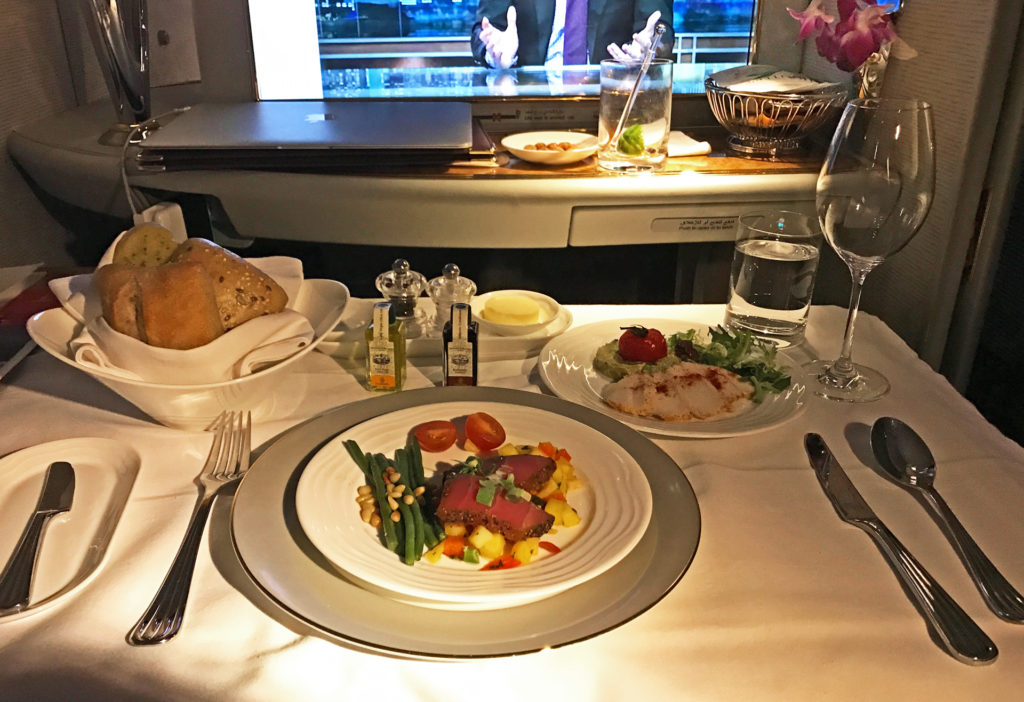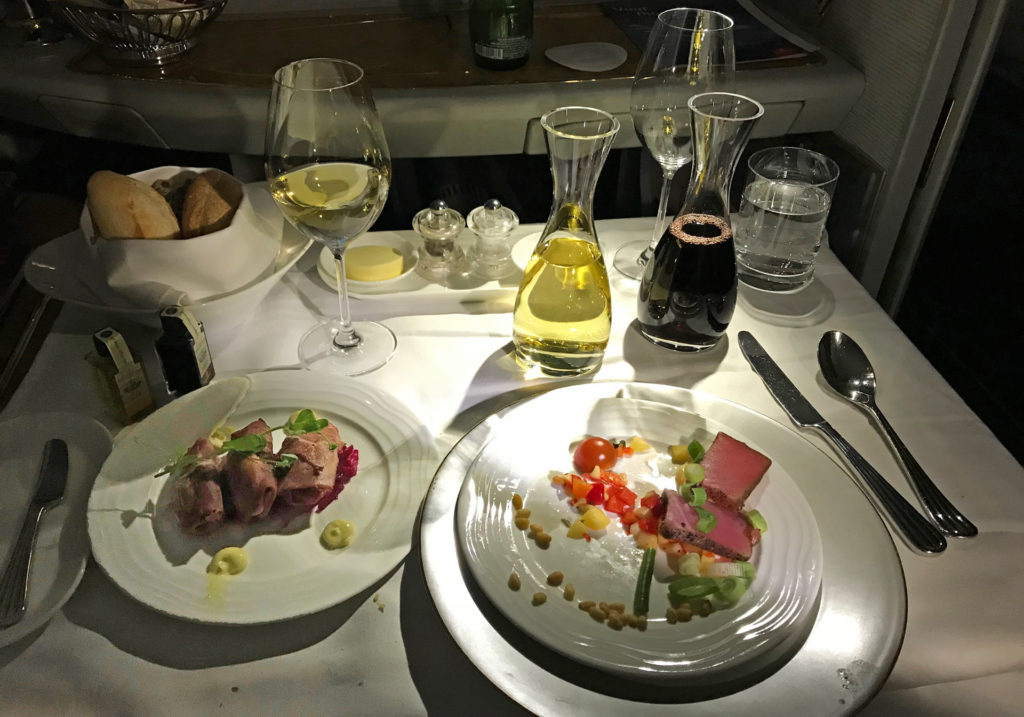 Battle of the Bars
The Airbus A380s at Emirates and Qatar both have onboard lounges. Qatar's is situated in the center of the upper-deck. The Emirates version is also upstairs, but in the back, behind business class. Emirates also has an exclusive upper-deck bar only for first class customers, located at the forward bulkhead between the shower spas. The lounge is staffed by a bartender, while the forward bar is serve-yourself (below, Julia chooses a bottle of Spanish white). Prior to arrival, the forward bar is taken down and a tea station is arranged in its place, backdropped by ornamental stones and waterfall. I mean, it's hardly an airplane without rocks and a waterfall.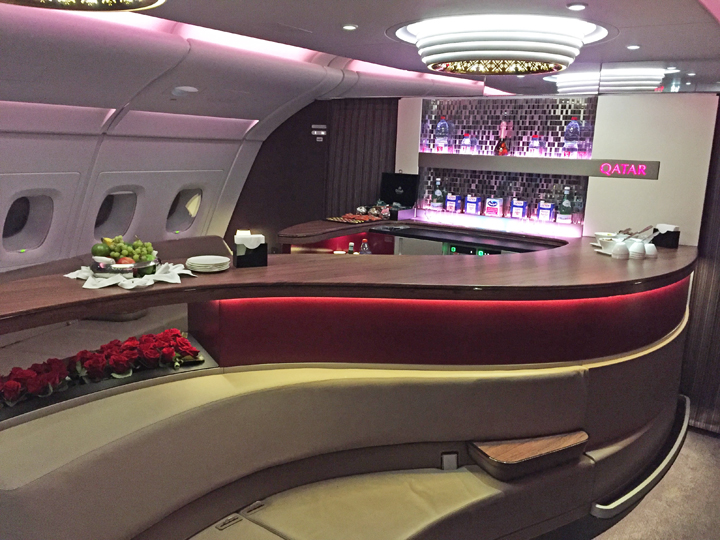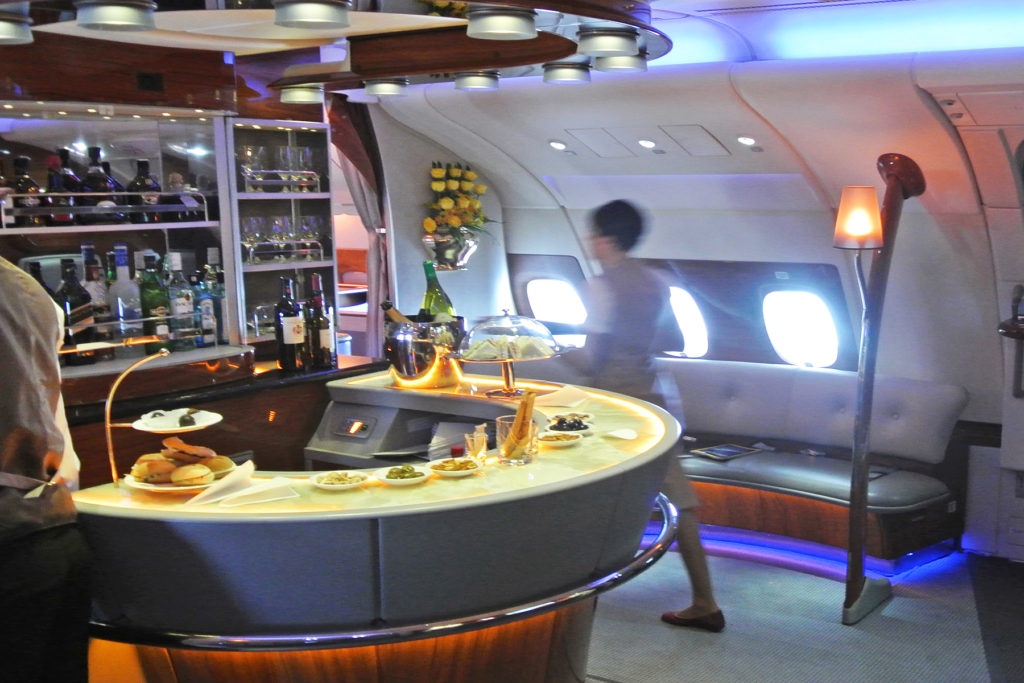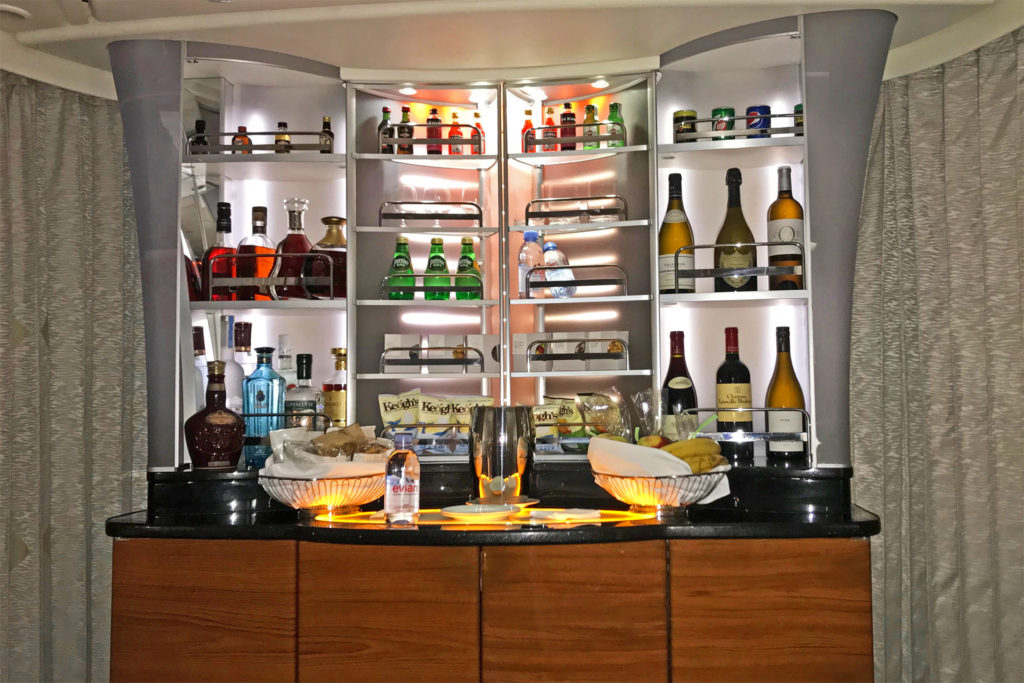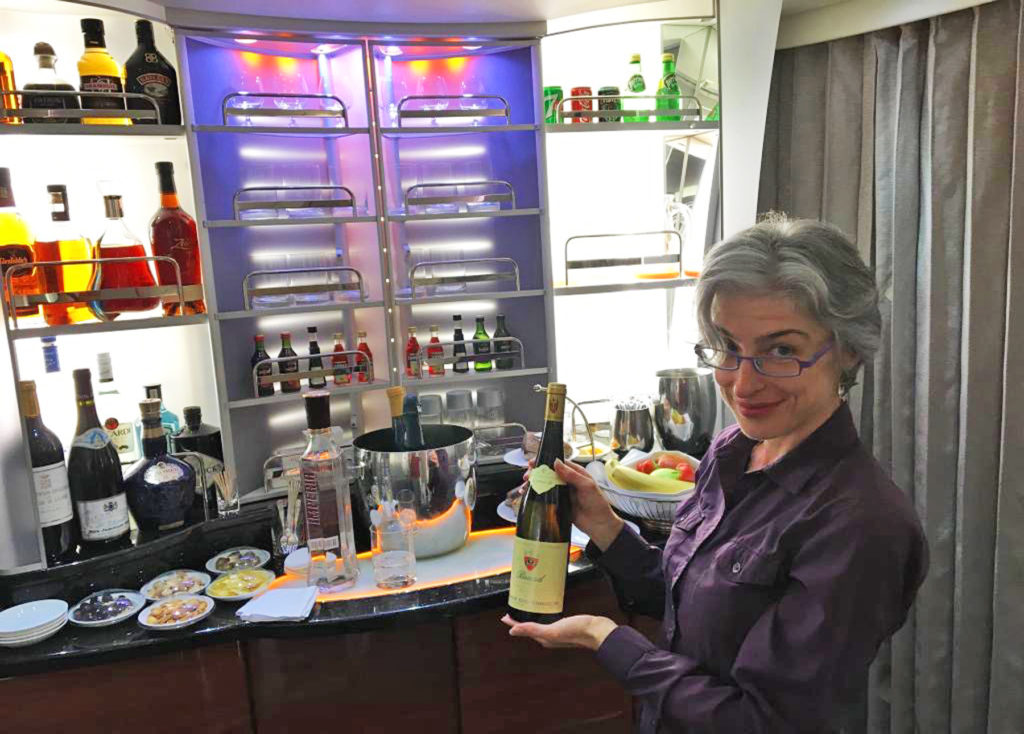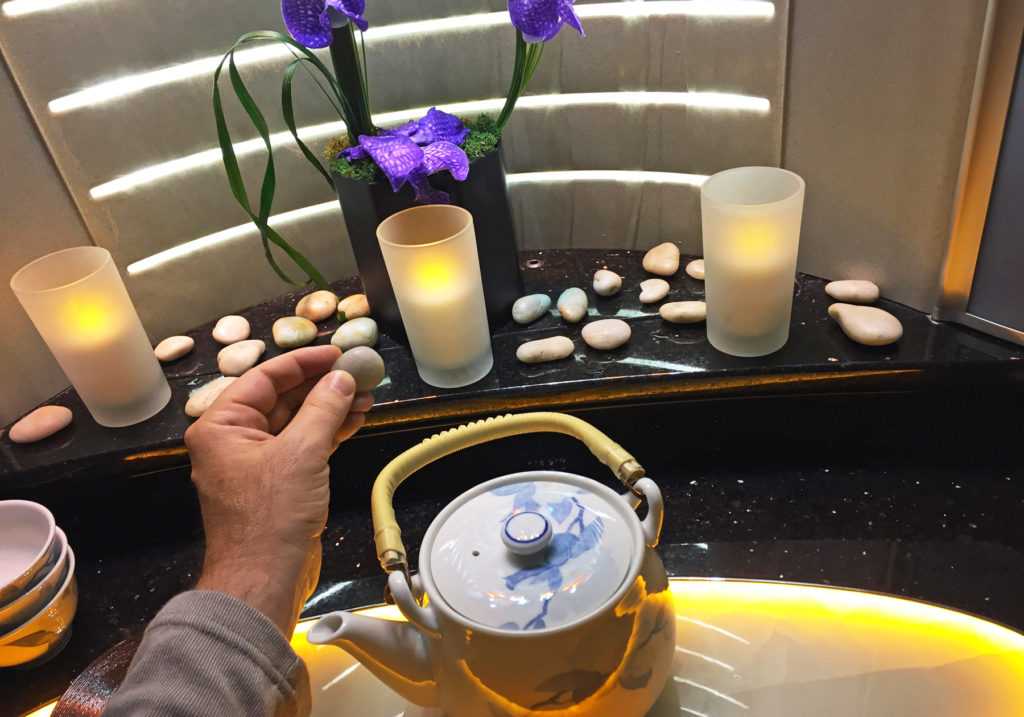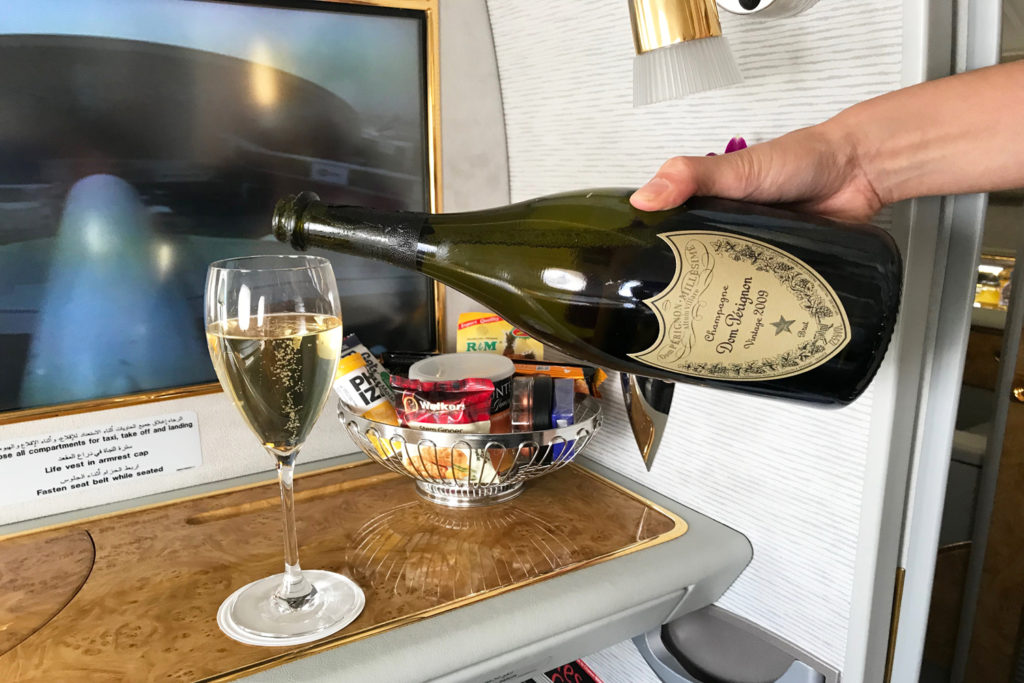 The Quiet Americans
Looking at those photos from the Gulf carriers, it's easy to see that none of this is fair. Competing with heavily subsidized, government-owned airlines is pretty much impossible for American, European, and even most Asian carriers. Which isn't to say their onboard products aren't good. My photo collection doesn't show it, but I've experienced most of them, and they hold their own. We've come a long way since the early 2000s, when broken seats, lousy food and terrible service were the standard. Let's hope the COVID fiasco doesn't re-set the clock.
If I had to choose a winner it'd be Delta. Its international business class, now branded as Delta One, offers good food and an elegant, choreographed presentation with appetizer, soup, and dessert courses all delivered separately. It's professional and gracious experience that United and American don't match, even with bigger planes. Heck, it even blows Emirates' business class away. Delta also has the world's best inflight entertainment system. It's not by accident that the airline keeps winning the most passenger choice awards among the U.S. big three.
I have no idea how much time it will take to claw our way back to normal, but if there's one thing I miss it's the guilty pleasure of sitting back with a movie, a good meal and some wine.