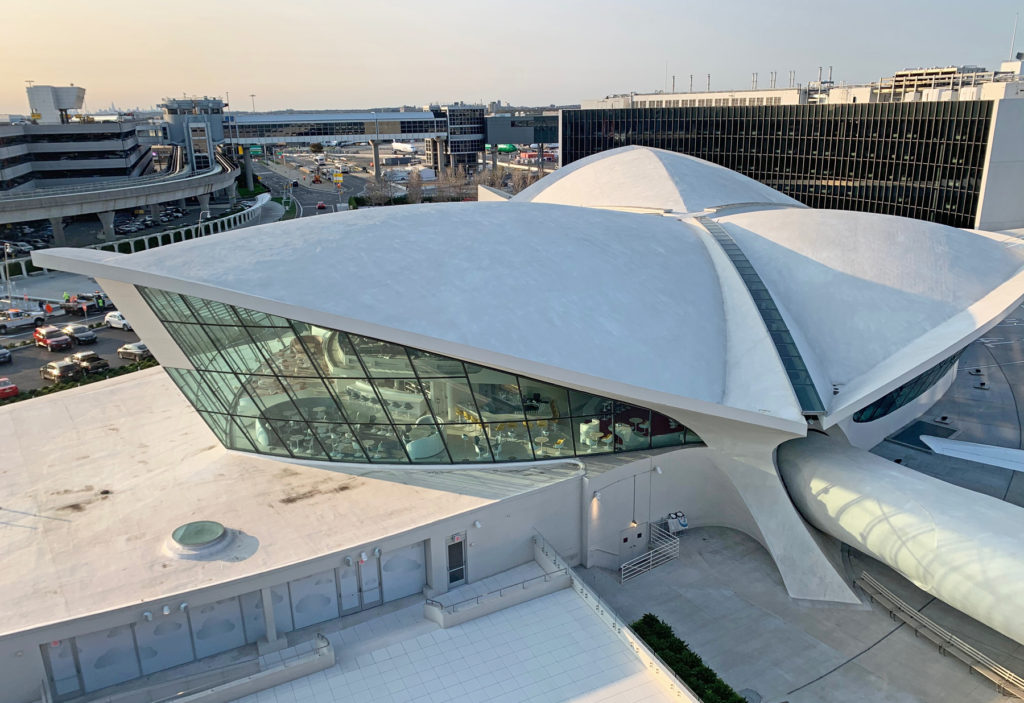 ALL PHOTOS BY THE AUTHOR.
January 24, 2021
THANKS TO SOME terrific rates offered to airline workers in these times of low occupancy, I've been staying regularly at the TWA Hotel at New York's Kennedy Airport. It's become my go-to layover when I've got an early-morning sign-in or a night to kill between trips.
The 512-room property, set between terminals 4 and 5, incorporates the famous "Flight Center" — Eero Saarinen's swooping, soaring, masterpiece TWA terminal completed in 1962. The most architecturally significant airport terminal ever built, the Flight Center was also the first one designed expressly for jet airliners. After the takeover of TWA by American Airlines in 2001, its fate was bounced around between preservationists and Port Authority bureaucrats, its survival in doubt until it was saved from the wrecking ball thanks mainly to the efforts of New York City's Municipal Arts Society. The initial plan was for the terminal to serve as a lobby and ticketing plaza for JetBlue, whose Terminal 5 sits directly behind it. This fell through, however, and the terminal sat in a state of semi-dereliction until the hotel plan came together.
When the hotel opened in 2017, the travel blogs went giddy, binging on terms like "retro," and "throwback," with the obligatory references to "Mad Men" and so forth. This made me nervous. Aware that such endeavors have a tendency to go aesthetically awry, I was worried the renovators had spoiled the place.
I'm happy to report this is not the case. They understood what made the terminal special, and have kept it that way. The building's beauty rests in its continuity. "All one thing," is how Saarinen, a Finn whose other projects included the Gateway Arch in St. Louis and the terminal at Washington-Dulles, once said of it. It's a fluid, unified sculpture of a space, at once futuristic and organic; a carved-out atrium reminiscent of the caves of Turkish Cappadocia, overhung by three cantilevered ceilings that rise from a central spine like huge wings. And, bless their hearts, they've left it alone. It speaks for itself, free of any architectural gimmickry.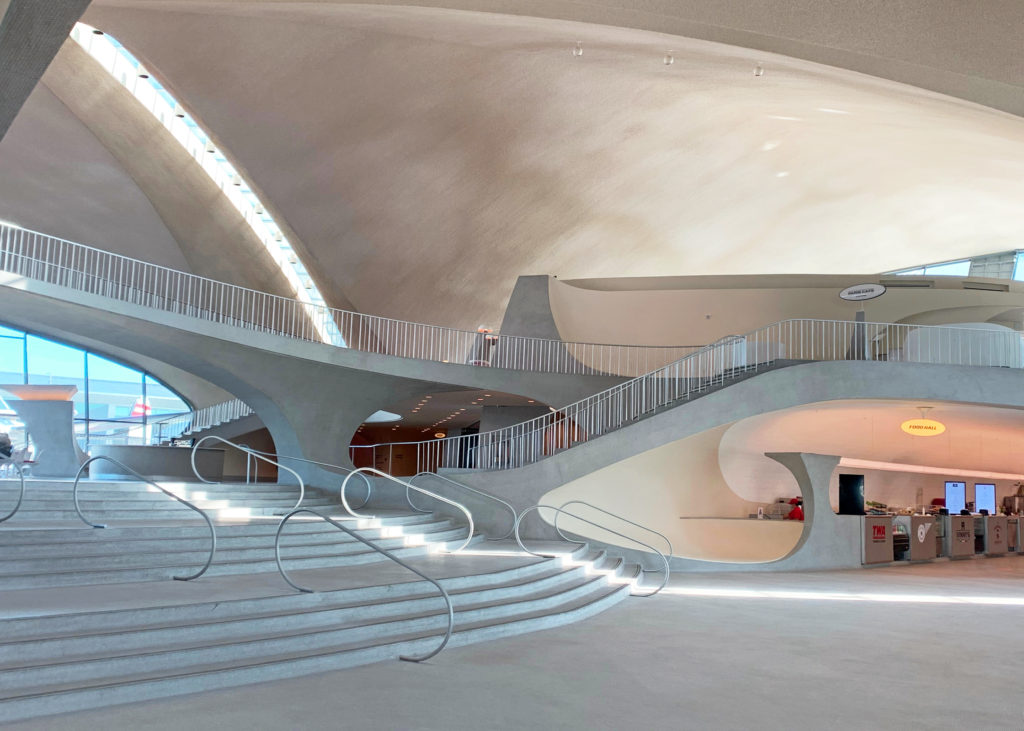 The hotel is not exactly "inside" the terminal, as some have stated. The Flight Center is too small a structure for that. It's merely the check-in lobby and central atrium. Which, essentially, is what it's always been. Now, however, the two long pedestrian tunnels, through which passengers once walked to the boarding gates, connect instead to a pair of multi-story hotel blocks. Along the lobby's left side, at the long counter where in 1962 you would have received your boarding pass for Rome or Paris or Athens, guests pick up their keys and head to rooms in either the "Saarinen" or "Hughes" wing — the latter in honor of Howard Hughes, who controlled TWA from 1939 until the 1960s. Along the right side is a 24-hour bistro for pizza and panini, and, on the floor above, a very expensive sit-down place called the Paris Cafe. On the rooftop level of the Hughes wing is an all-season infinity pool overlooking the runways — it's small, but the view makes up for it. In the warmer months, a bar with open-air tables serves drinks and sandwiches.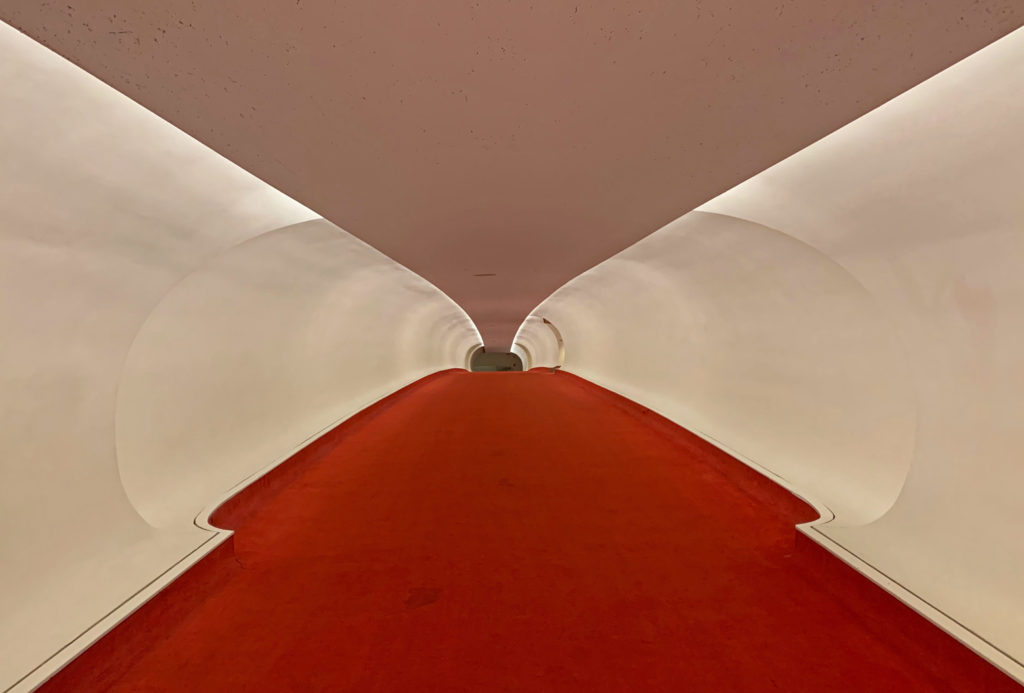 Out back, photographed and Instagrammed no fewer than eighty billion times, is a brilliantly restored Lockheed Constellation, wings and all, with an onboard cocktail bar. Few people would notice or care, but in fact this is a touch anachronistic: the Connie was a propeller-driven plane and mostly obsolete by the early 60s. A 707 would have been better. But we shouldn't quibble. It's a beautiful installation and it does the job it's supposed to, taking us back to another age and time — even if not quite the correct one.
Mixed in with all of this are several displays featuring 60s-era ephemera, period photographs, vintage TWA uniforms and so forth. Indeed the entire place has the feel of a museum, which I suppose it is.
On the negative side, the front desk is understaffed, with check-in times often hitting twenty minutes or more. The tilework is grubby and could use a power wash, and, for some confounding reason there's no luggage ramp between the upper and lower levels of the lobby. The levels are staggered only slightly, but guests have no choice but to carry their bags up and down the stairs.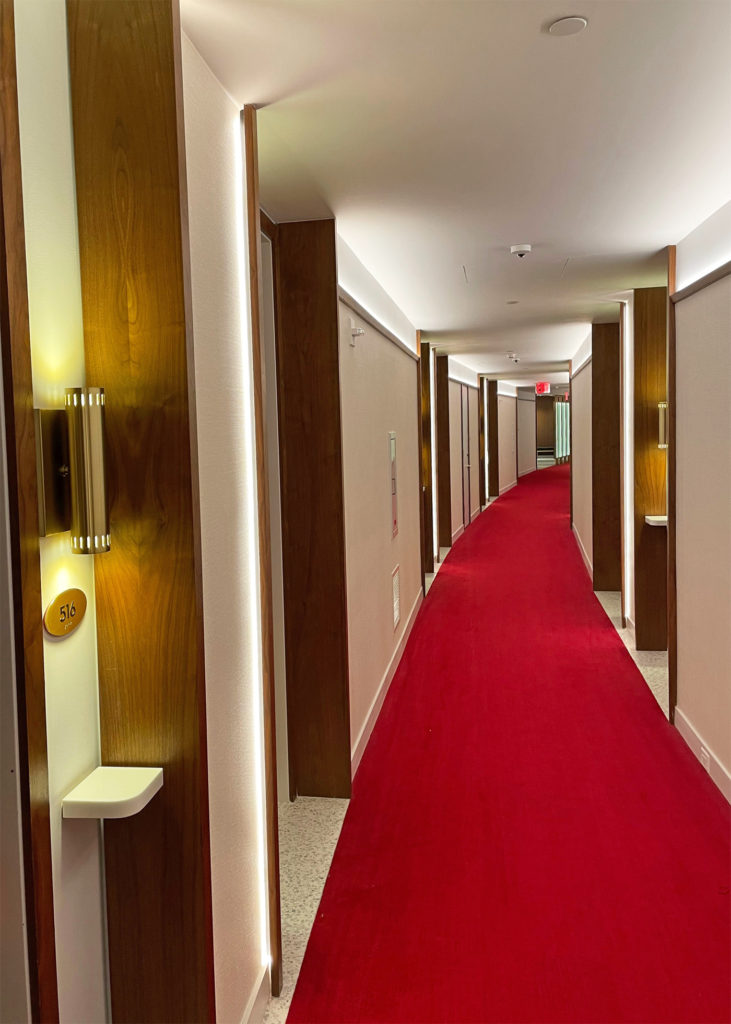 The rooms themselves have the same time capsule vibe, outfitted with Saarinen-designed furniture and other period touches. Things wobble just a bit along the fine line between nostalgia and kitsch — the martini glasses and the Western Electric rotary phones — but the feel overall is elegant and smart. The travel posters are wonderful, and I love the cordless phone chargers (every hotel needs these).
What's sorely lacking, however, is some counter and closet space. The standard rooms have barely enough space for a roll-aboard bag, and no closet whatsoever. The four-point peg-and-hanger contraption in the alcove is useless; I was forced to hang my coat and shirt over the floor lamp. There's plenty of open wall that could be outfitted with additional hangers or storage nooks, making the lack of them all the more frustrating.
The bathrooms, on the other hand, are oddly enormous, with wide vanities and walk-in showers that could fit an entire 747 crew. Why they opted for oversized bathrooms while skimping on the rest I'll never understand. Above the mini-fridge is an equally wasteful serving ensemble with two each of martini and champagne glasses, the point of which, other than to use up precious square footage, escapes me. Here, the hotel becomes a little too full of itself, sacrificing practicality in order to make some pretentious aesthetic statement.
There's also a peculiar "no wake-up calls" policy. People have flights to catch, do they not? And if you're like me, a backup to your mobile phone alarm is important.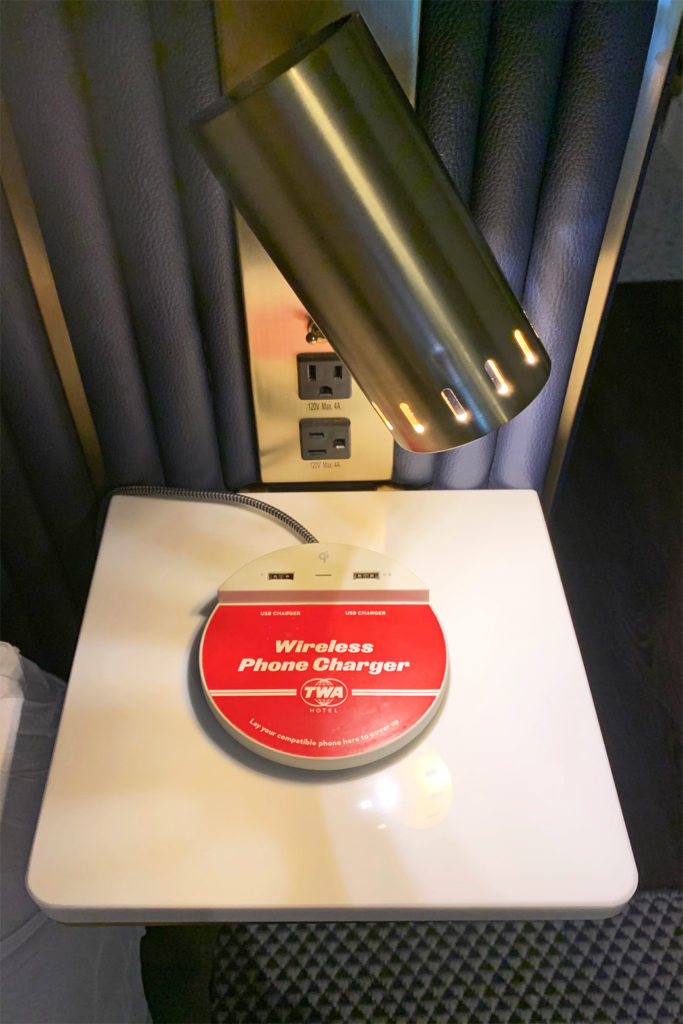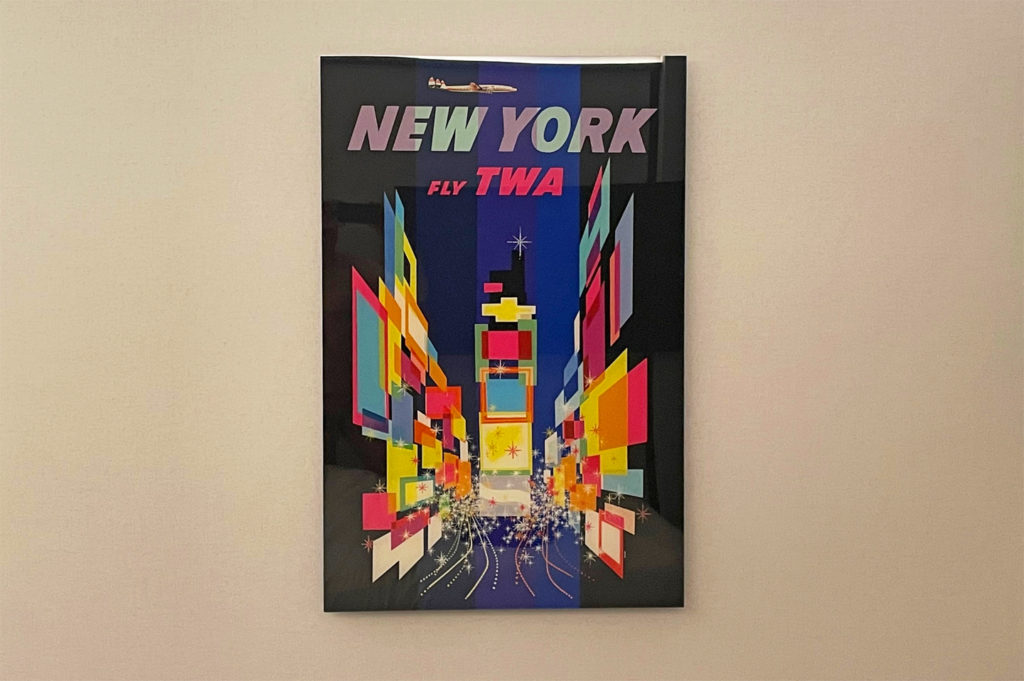 All criticism aside, there's that phrase: I love what they've done with the place.
In 1996, Saarinen's building was still a functioning airline terminal. As a young pilot for TWA Express, I was one of the employees who worked there. Into its fourth decade and home to a financially struggling carrier, it was neglected and forlorn. I remember sitting in the space now occupied by the Paris Cafe, eating shitty cafeteria food while clutches of sparrows swooped from the yellowed overhangs to snatch up crumbs. The red-carpeted tunnel that now leads to the Hughes wing once took me to the TWA Express operations room, where five-gallon buckets were spaced along the floor to collect rainwater that dripped from holes in the ceiling.
To see it today is heartening. It almost feels miraculous. Watching people mill around the lobby — businesspeople, a family of four, a Singapore Airlines crew taking selfies — I wonder how many of them have an idea what this place even is, or was. I imagine to most folks, not being airport buffs or historians, it's just a cool hotel with a funky old lobby.
For it have become a trendy hotel — rather than a museum, or even a working terminal again — is maybe not the ideal outcome, but it's a welcome alternative to demolition — as befell two other iconic JFK structures: I.M. Pei's National Airlines "Sundrome," which was cleared away so that jetBlue could expand its hideous Terminal 5, and the former Pan Am "Worldport," a.k.a Terminal 3, torn down in 2013. The Flight Center narrowly escaped a similar fate. Fortunately it lives on, a place both old and new, restored with commitment and care.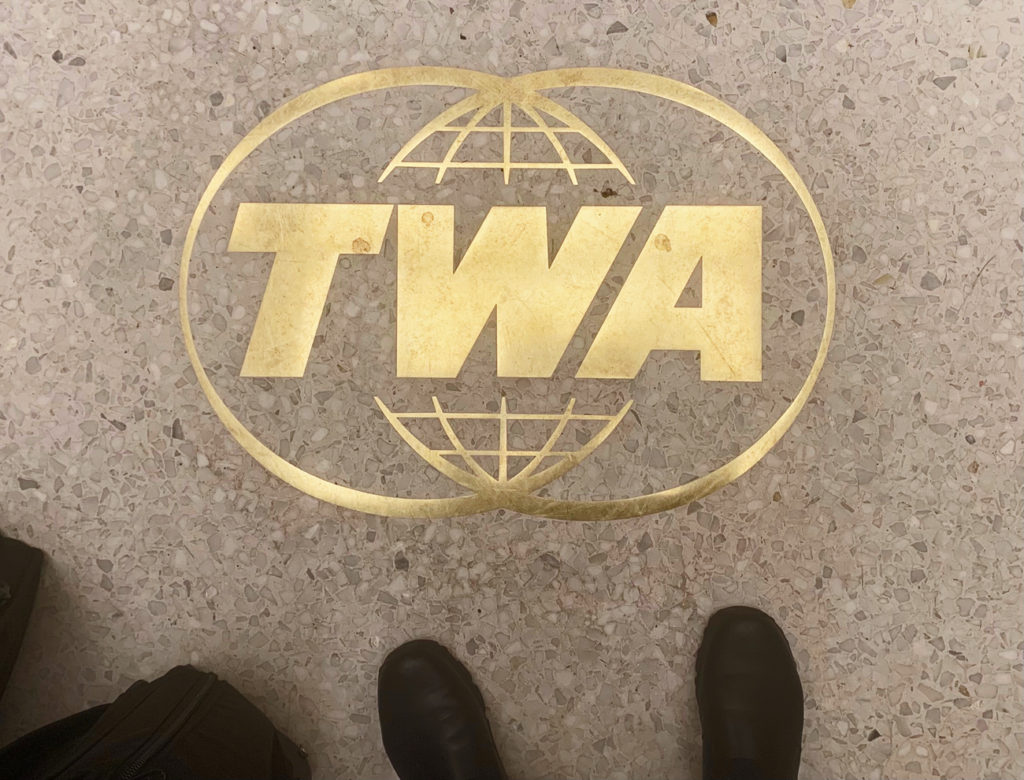 Not every iconic airport building deserves to stay standing forever — Terminal 3 for example, was beyond rehabilitation and overdue for the wrecking ball. What I wish, though, if we're not preserving these structures, is that we put a little more imagination and vision into the ones that take their place.
In this regard, JFK sets a best and worst example. It kept Saarninen standing, but has otherwise has lost most of its character through a long series of tear-downs and replacements. Worst of the new terminals is without a doubt JetBlue's aforementioned, wildly overrated Terminal 5. Let's dip into my book for a description …
"'T5' as the carrier likes to call it — is a $743 million, 72-acre structure that opened in 2008 to considerable promotion and fanfare. Inside, the fast-food outlets and shops conspire to make yet another airport look and feel like yet another mall. But it's T5's exterior that's the real tragedy. Although the street-side facade is at worst cheerless, the tarmac-side is truly abominable — a wide, low-slung, industrial-brutalist expanse of concrete. Once again it looks like a shopping mall. To be more specific, it looks like the back of a shopping mall. All that's missing are some pallets and dumpsters. The facility's only visual statement is one of not caring, a presentation of architectural nothingness, absolutely empty of inspiration — precisely what an airport terminal should not be. Is this the best we can do?"
T5 sits directly between Saarinen and the spot where Pei's Sundrome stood. There's something troublingly ironic about that.
Related Stories: