Crossover: Air Travel as History
January 20th, 2022
THIS PAST MONDAY was Martin Luther King, Jr. Day here in the United States. January 15th marked the cilvil rights leader's 93rd birthday.
King was murdered in April of 1968 in Memphis, Tennessee. You have all seen the famous photograph (actually there is a series of them) taken by Joseph Louw, showing the desperate scene on the balcony of the Lorraine Motel, seconds after King was struck by the assassin's bullet. It appears above.
Including King, there were seven people on the balcony, including Jesse Jackson, Ralph Abernathy, and Andrew Young. But it's the one closest to the camera that interests us — the girl with the white socks. She is an 18 year-old college freshman and activist named Mary Louise Hunt. She had taken part in one of the marches in support of the striking Memphis sanitation workers. The night before, she had sung in the choir at the Mason Temple, standing behind King as he made what would be his final and, arguably, most famous speech.
Unlike some of the others in the photo, she never was famous. What makes her interesting, though, is that she later became one of the first African-American flight attendants hired by Pan American World Airways.
Maybe that strikes you as a pointless non-sequitur that detracts from the gravity of the photo, and perhaps you're right. Nonetheless I find it fascinating. I call these "crossovers" — those moments when history, culture, art or politics intersect unexpectedly with commercial aviation. They underscore the many ways, often hardly recognized, that air travel manages, one way or another, to affect our lives.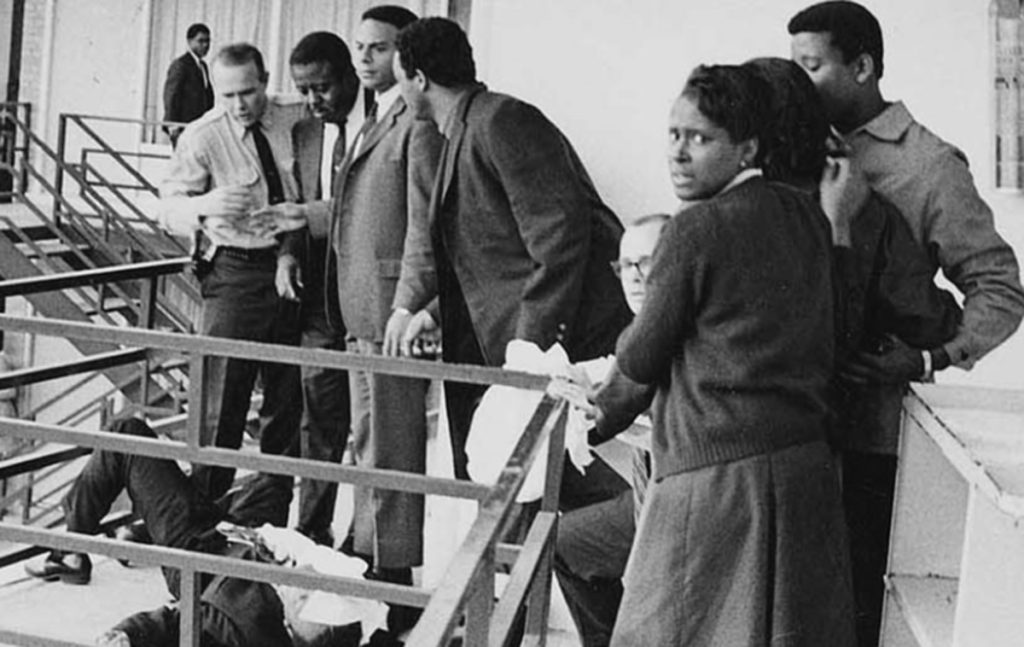 We see Ms. Hunt in another of Louw's photos, snapped moments after the more iconic one. Here she's looking back at us with a look of grief and anguish. Flying around the globe in 747s was the furthest thing from her mind, but that's what she'd be doing not long afterward.
Hunt worked at Pan Am only for a short time before moving to a start-up delivery company called Federal Express. She died young, from cancer, in 1992.
And shown below, incidentally, was the plane that carried MLK's body out of Memphis a few days after he was killed. It's an American Airines Lockheed Electra, a workhorse of the 1960s. There's nothing like a vintage airplane photo when it comes to building context. We see it more clearly now: the place, the time, the era; the evolution of air travel itself a constantly running backstory to history at large.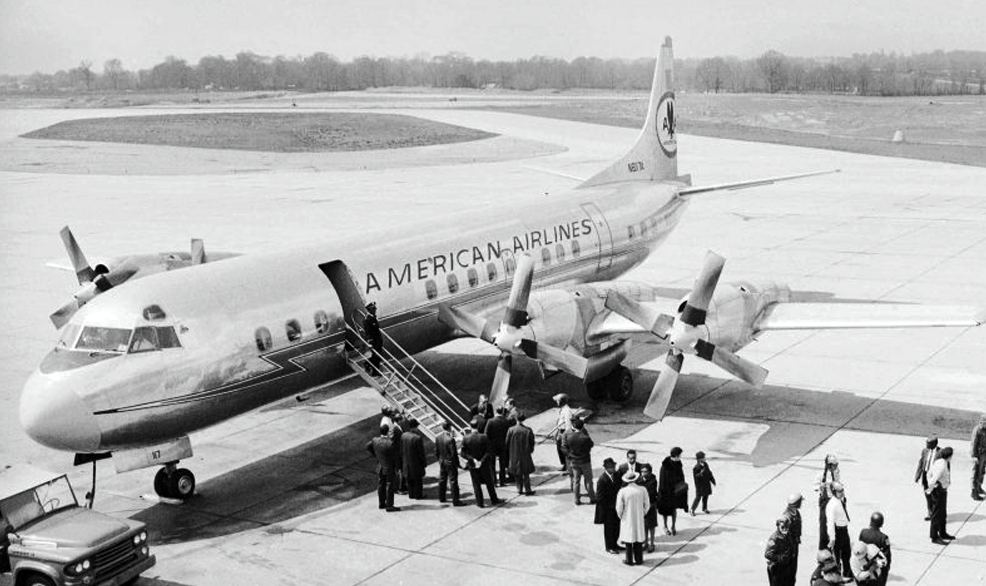 Is that too romantic? Am I pushing it?
Here's another tie-in…
Back at the Lorraine Motel, Andrew Young was out there next to King, Jesse Jackson, Hunt and the others. Young later became a U.S. Congressman, the mayor of Atlanta, and a U.S. ambassador to the United Nations.
In 2018, Atlanta-based Delta Air Lines commemorated Young's 80th birthday by dedicating a Boeing 767 in his honor. Aircraft N16065 still bears his name, painted on both sides along the lower front fuselage.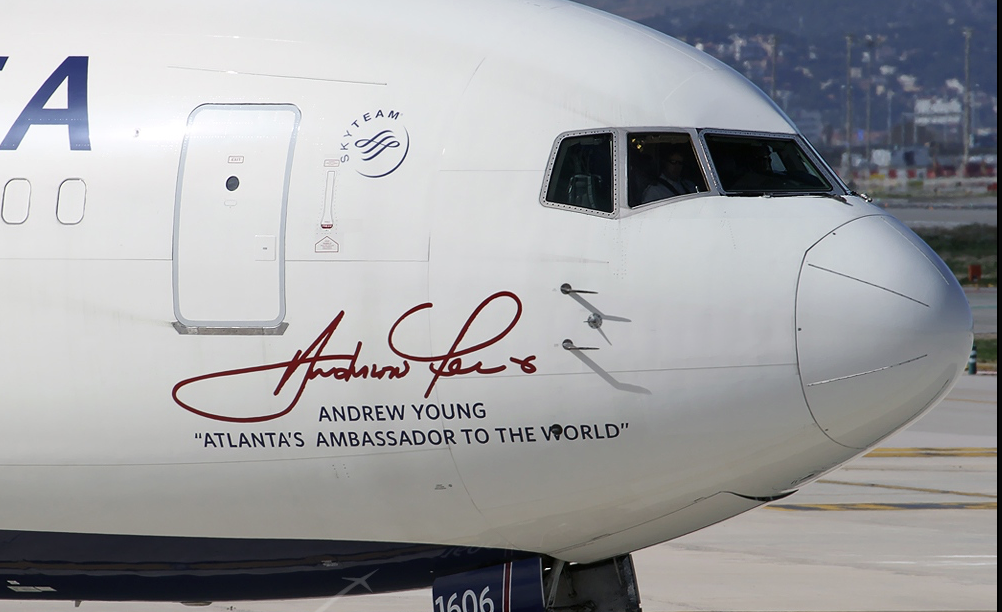 767 photo courtesy of Javier Gonzalez.